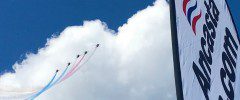 The Sun Shines on the 2017 Swift Trawler Rendezvous!
In contrast to 2016, this year's Swift Trawler Rendezvous event was bathed in sunshine and calm waters. The ten strong fleet visited the Bournemouth Air Festival in Christchurch Bay and enjoyed the show.
Best Seat in the House
Visiting the Air Festival by water has many benefits. The fleet avoided the traffic, enjoyed the home comforts of their own vessels and secured the best seat in the house from which to enjoy the spectacle. Dropping anchor about halfway down the length of the exclusion zone, the fleet were able to get a good view of the action happening right over head.
Bookended with a couple of good meals and a few drinks in Lymington and Yarmouth, the Swift Trawler fleet enjoyed something a little different over the first weekend in September.
Join The Ancasta Motorboat Club
All Ancasta Motorboat Club rallies, including the Swift Trawler Rendezvous, aim to provide support and guidance to boat owners from all over the country. These events are perfect for owners who are looking to cruise in company and perhaps explore some destinations a little further a field. The Ancasta lead boat provides planning and support for extra peace of mind.
For more information on the Ancasta Motorboat Club, see here.
To see all the images from the weekend, see here.
To contact us direct, email: [email protected]