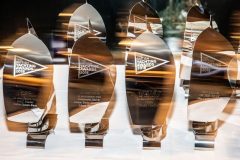 Another win for the new Lagoon 50 and Beneteau Oceanis 51.1
The British Yachting Awards 2018 – Winners Announced
After thousands of votes cast by the readers of leading sailing magazines Sailing Today and Yachts & Yachting magazines, for the very first time, The British Yachting Awards were presented on Tuesday 11 December at The Royal Thames Yacht Club in Knightsbridge, London.
Editors Georgie Corlett-Pitt and Sam Jefferson greeted the buzzing crowd and celebrated a whole host of exceptional deeds, with records falling left and right, new products that have impressed, and individual and team performances that set new standards.
Clearly the talent on offer inspired the sailing public, with thousands of readers voting for their favourites in a diverse range of categories, from Cruising Grounds to Racing Performance. The votes in many cases were extremely tight, reflecting the strength of the sport and its increasing diversity.
Ancasta was proud to see wins for two of the key brands: Lagoon and Beneteau.
Cruising Yacht of the Year went to the Beneteau Oceanis 51.1
Multihull of the Year was awarded to the Lagoon 50
A big thank you goes to The British Yachting Awards and their sponsors:
Presented by: Musto, Sailing Today, Yachts & Yachting
In association with: Astins, Brutons Propellers, Culture Sailing, GAC Pindar, Garmin, Ocean Sailing Scotland, Pantaenius Sail & Motor Insurance, Porto Montenegro, Poole Quay Boat Haven, Seafarer, Seago, UKSA.
The full Winners list was as follows:
Event of the Year: Volvo Ocean Race
Amateur Sailor of the Year: Maria Stanley
Youth Sailor of the Year: Emily Mueller
Pro Sailor of the Year: Dee Caffari MBE
Racing Performance of the Year: Dongfeng Race Team
UK Marina of the Year: Weymouth Marina and Portland Marina
Charter Destination of the Year: British Virgin Islands
Equipment Innovation of the Year: Weems & Plath CrewWatcher beacon and app
Clothing Innovation of the Year: Musto D3O Impact System
Dinghy of the Year: Flying Mantis
Sportsboat of the Year: RS21
Performance Yacht of the Year: J/121
Cruising Yacht of the Year: Beneteau Oceanis 51.1
Bluewater Cruiser of the Year: Discovery 54
Multihull of the Year: Lagoon 50
Boatbuilder of the Year: Hanse Yachts
Under 30s Outstanding Achievement: Nikki Henderson
Outstanding Achievement: Tracy Edwards MBE