Ancasta Falmouth – Boats for Sale
Falmouth Yacht Marina, North Parade, Falmouth, Cornwall, TR11 2TD
We have two offices on the Fal estuary – Ancasta Falmouth based at Premier Marina's 500 berth marina (a short walk from the town of Falmouth) and Ancasta Mylor at Mylor Yacht Harbour which was originally the most westerly Naval Dockyard and victualling station in England but is now a little quieter with 400 prime marina berths.

Falmouth's natural harbour is the third largest deep-water harbour in the world, the traditional gateway to the Atlantic and one of the world's great sailing locations. Falmouth's maritime tradition is regularly celebrated through regattas and festivals. The clear waters, sheltered creeks and mild temperatures of the Fal estuary provide fine natural oyster beds which sustain Europe's last remaining oyster fisheries still dredging under sail. This is a designated area of outstanding natural beauty yet Falmouth is also a working port with big ships arriving for fuel or refit and the home of Pendennis Shipyard, builders of custom super yachts. The Fal estuary is a mixture of stunning beaches, open water and working docks giving Falmouth unique balance of work and play.

T: +44 (0)1326 211 007
F: +44 (0)1326 211 521
Falmouth featured listings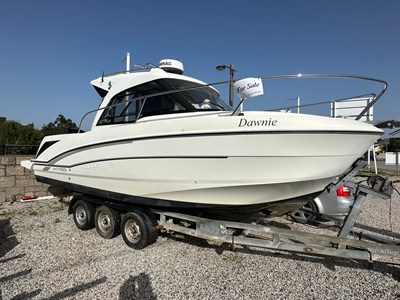 55,000
location: Falmouth, Cornwall
View all South West UK listings
Opening hours
Monday to Friday – 9am - 5.30pm
Saturday – 10am – 4pm
Sunday – By Appointment Only
Bank Holidays 10am – 4pm
Meet the Falmouth team
Simon Boote

Simon Boote first came to Cornwall as a sailing instructor on the Helford River in the early 1980s. He returned with his family in 2003, having had a career that allowed him to sail all over the world. He took over Ancasta Cornwall (Falmouth and Mylor) in that year and added Ancasta Plymouth to the portfolio in 2007. He remains a passionate sailor both in Cornwall and overseas. He has been a member of the Royal Ocean Racing Club since the mid 1980's and has competed in many of the world's premier sailing events. However he is also a proud owner of a Fly-bridge Sports Fishing boat that is "probably one of the most used boats in Cornwall!"

Lee Ball

Lee Ball is a senior broker who joined "team Cornwall" at our office in Mylor in 2010 but actually his connection to Mylor Yacht Harbour started when it was the home for his father's power boat. Lee has a passion for power having previously enjoyed a successful career in the motor trade. He used to race bikes, annually attends the Le Mans 24 hour race and is a product specialist for our Prestige and Beneteau power brands. However Lee also loves sailing and is a member of Restronguet sailing club where he sails a Laser (sometimes the right way up) and has become an integral part of the boating community in and around Mylor and Falmouth.