Ancasta Cala d'Or Boat Sales
Port Petit 209, 07660 Cala d'Or, Mallorca, Spain,
One of Ancasta's newest offices is positioned in the fabulous Cala d'Or Marina on the island of Mallorca. Situated in Cala Llonga, a natural sheltered harbour, the marina is a popular base from which to explore this less developed side of the island. Ancasta takes pride of place on the waterfront, amongst all of the main bars, restaurants and retailers; a prime spot with plenty of passing footfall and a great place to soak up the vibrant Majorcan atmosphere. We offer an extensive boat sales service in Cala d'Or. If you are looking to purchase a new yacht or motor boat, our staff are able to offer great insight into the options available from all of our brands. Vendors will also benefit from our high footfall location and global network of active yacht buyers.

UK T: +44 1273 257582
Cala d'Or featured listings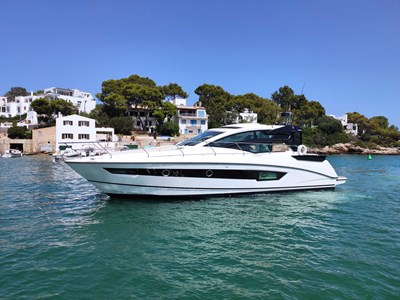 329,950
location: Mallorca
2,540,706
location: Mallorca
View all West Mediterranean listings
Opening hours
May till October:
Opening Hours - 7 Days per Week
Monday to Friday – 9.30am - 5.30pm
Saturday – Broker on call (please phone ahead of visit)
Sunday – Broker on call (please phone ahead of visit)
Bank Holidays - Appointment only
November to April – Available by Appointment Only

Meet the Cala d'Or team
Albert Blom

I have been working in Mallorca as a yacht broker since 1996. I joined the Ancasta Palma Team in 2018 having worked successfully at various new boat sale brands and other international yacht brokers. I especially enjoy working on cross-border sales and dealing with a variety of international clients. Born and raised in Amsterdam, I started sailing at a young age and whilst studying in Amsterdam I taught sailing and windsurfing locally and in Spain. As a typical Dutchman I enjoy speaking languages. I am fluent in Spanish, German, English and Dutch so please feel free to contact me anytime for your search for a berth, power or sail boat in Mallorca and the rest of the Med.

Matthew Shave

Matthew began his experience with Ancasta over ten years ago when he started helping us out with boat shows before becoming a qualified yacht broker in 2005, and permanent fixture of our weekend team. Successfully selling boats for our Brighton office, Matt then moved away from the area for several years before returning to the fold and re-joining Ancasta as a full time broker in the summer of 2013. The following year, he joined the Prestige sales team, where his extensive knowledge of the luxury motor boat brand is being very well placed as is his passion for motor boating.

Christine Vageler

Christine Vageler is the Office Manager and the Brokerage and Listings coordinator in the Palma Office. Originally from Kiel, Germany she spent many years in London prior to working 10 years around the Mediterranean for a yacht charter company, followed by the private yachting sector. Christine joined Ancasta Palma in 2005 after making Mallorca her home. Happy to help anyone with her extensive knowledge in the yachting industry, please feel free to contact her in English, German or Spanish.

Hanne Niederbracht

Hanne Niederbracht is the Brokerage Manager of the busy Palma office, specialised in international and cross border deals, both power and sail. Coming from a maritime background (father and grandfather were captains in the merchant marine) she grew up around ships and boats. Subsequently later on she continued as a yachting woman racing and cruising in a variety of boats and yachts of all sizes. She will be delighted to offer her expertise acquired during many years working as an international yacht broker on the Balearic Islands and beyond with local and international clients in second hand and new boat transactions. You are welcome to contact her in English, Deutsch, Français or Español.

Chanel Kwik

Native from Mallorca, Chanel spoke perfect English from a young age thanks to having attended a British school in Palma. Later, she would end up studying International Hotel Management learning everything about high-end tourism and practicing other languages like German and French. After finishing her degree, she decided to join the Super Yachts as a crew member. This allowed her to travel to many countries but also to develop a passion about the yachting industry and learn exactly how yachts are run on a daily basis. After a few years she based herself back on land although still very much involved in the yachting community in Palma until today. She has now joined Ancasta where she is able to blend her knowledge of luxury tourism with her experience and interest in yachts.

Sam Sztumpf

My introduction to the maritime world started with dinghies at an early age. Whilst in the UK as an adult I enjoyed various seasons racing yachts on the Solent, and spent some time teaching windsurfing and sailing in Egypt. I have been in Yacht Sales for 11 years now, and still find it a fascinating and rewarding profession. Though British, I speak Spanish, German and French and would be happy to help with your next boat purchase/sale, and guide you through this often complex process! I can help with both power and sail, and anything else regarding the maritime industry in general, especially in Mallorca and the Balearics. looking forward to hearing from you.