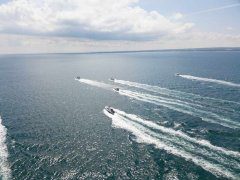 Yarmouth - Saint Vasst - Cherbourg - Solent 2019
With a reasonable forecast ahead of the weekend it was looking like we were going to be able to run the 2019 cruise to Saint Vaast which had to be cancelled in 2018 due to adverse weather.
This years event filled up within a week of being announced and with a range of boats from 35 to 55 feet in length, we knew it would be a good trip! There were a few faces who had joined us on previous Ancasta rallies and a good number of newbies, many of which were all looking forward to doing their first channel crossing.
The idea behind both the Ancasta Yacht Club and the Ancasta Motor Boat Club is to provide a simple service that allows boat owners to push their knowledge and previous experience in a safe and fun environment to help them build their boating confidence. We still hear from owners who have been on previous rallies who are now happily venturing to all corners of Europe and beyond on their own. The other essential element of an Ancasta Rally seems to be to eat to excess! This years trip was no exception with a great meal together in the recently refurbished George Hotel in Yarmouth and in the simple but delicious Cherbourg Yacht Club.
We woke to blue skies in Yarmouth and a light northerly to take the fleet over to Saint Vaast – a simple 60nm passage. Conditions were flat so we could keep the speed up and arrived in good shape. Weaving through the lobster pots, the fleet passed through the lock and into the sheltered marina. The afternoon was spent exploring the old fishing village, targeting a suitable spot for dinner.
Saint-Vaast-la-Hougue has survived multiple invasions over the years leaving a peaceful and pretty village with a number of great seafood restaurants and bakeries. A great spot for a passing yachtsman especially if the weather turns bad from the west. After a good meal and a few drinks, the fleet retired to their boats. The following morning was a little more testing with cloudy skies and a little more wind than forecast for our short passage around to Cherbourg. Despite wind and tide being together, the route around the Barfleur headland was quite lumpy, especially for the smaller boats. With a drop in speed and some encouragement, the fleet made it around into the calmer waters leading into Cherbourg. After waiting for all the broken fuel pumps to be fixed and a bit of faffing, the boats were safely fuelled, moored and happily looking forward to supper and a stiff drink!
To the relief of many, the stormy weather had passed by the morning ready for our return trip to UK waters. A slight sea and blue skies saw us all back in about four and a half hours before splitting up to head to home ports between Poole and Chichester Harbour.
It was great to see everyone enjoying their boats, taking them to places they had never been and building confidence for future adventures. To see more images from the weekend, see HERE
The Ancasta Motor Boat Club is free to join so if you are keen to get involved, you can sign up HERE!