Introducing Hannah Le Prevost – Ancasta Multihulls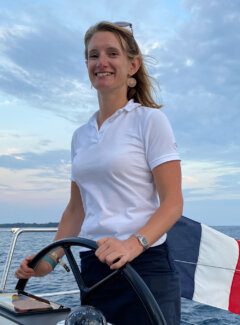 Hannah Le Prevost Joins Ancasta International Boat Sales as Multihull Brand Manager
Ancasta International Boat Sales welcomes Hannah Le Prevost to their Sales team.
Appointed as the new Multihull Brand Manager, Hannah, who has vast boat sales experience, is now will looking after both the Lagoon and McConaghy Brand within the Ancasta Group.
Hannah is working with customers to curate the best multihull experience for their needs. As the world leader in cruising sailboat catamarans, the award-winning range from Lagoon has seen significant growth in the 40–60-footer market, with customers looking for spacious interiors and comfortable onboard living. While McConaghy Yachts continues to prove popular with owners wanting a custom build multihull that delivers exhilarating sailing experiences as well as luxurious innovations and exceptional comfort onboard.
With the recent boom in multihull sales, Hannah will also assist Ancasta International Boat Sales with reinforcing its extensive multihull brokerage services to provide a turnkey service for multihull owners. From buying a multihull for the first time, and commissioning a new build, to regular servicing, maintenance or repairs, and selling or trading in for a newer or larger model, Ancasta provides all of the services a multihull owner needs to maximise their time on the water with minimum fuss, for the lifetime of their multihull ownership.
Hannah grew up on the South Coast, messing about in boats from a young age. And after gaining valuable experience of the marine industry working in a chandlery, she then earned a degree in Marine Sports Science from Plymouth University. Returning to Hamble, she landed an aftersales role with a family-run yacht brokerage which quickly progressed into a successful career in boat sales with a particular focus on catamarans.
"After more than 14 years in my previous boat sales role, I am excited by the challenge of the Multihull Brand Manager for Ancasta. Both the Lagoon and McConaghy brands will offer new opportunities to work with this ever-growing division of the marine industry and help many find their perfect multihull."
If you are a multihull owner or are looking to buy a catamaran for the first time, Hannah can be contacted by Email: [email protected] | T +44(0)2380 450005