Bluegame is always one wake ahead, actually two
New BGM75 In Build
Sanlorenzo's Ameglia shipyard enters the multihull segment with the build of the new BGM75. This groundbreaking vessel looks to the future; a platform for innovation that confirms the yard's leadership in sustainability.
Something new is in the air, or rather in the water. But just what is it?
It is the new Bluegame, shrouded in mystery and ready to break the rules.
The BGM75 is the first model in the new BGM range, launching Bluegame into the multihull market. Far removed from conventional multihulls currently on the market, it could be said that Bluegame has created a new segment.
The BGM75, consistent with Sanlorenzo Group's positioning, is first and foremost a luxurious, beautiful motor yacht that "by chance" has not one hull, but two. Not even considering this new feature can it actually be compared to any existing catamaran on the market; the length-to-width ratio, layout, full-beam owner's cabin, reduced space required for mooring in the marina, and the cushioned perception of movement at sea, brings it closer to a monohull yacht.
The BGM75 benefits from increased stability, large volumes, and reduced fuel consumption, demonstrating the yard's capacity for sustainable design. The ultra-efficient hull is derived from the America's Cup. Designed by Philippe Briand, a world-renowned expert in the design of performance hulls, optimisation of the Volvo IPS propulsion system means 50% less power is required than monohull vessels of the same volume.
Carbon in the hulls and the use of lightweight materials for all non-structural parts including furnishing components, also contribute to an impressive reduction in fuel consumption. An additional detail in sustainability is the production of 5kW of green energy, guaranteed by 56 solar panels that can be installed on the deckhouse.
Bernardo Zuccon and Piero Lissoni, tried and tested collaborators of the brand, have fully grasped the power of such an avant-garde project, giving a "futuristic" contribution to the external lines and a smart use of the interior volumes; one forgets that they are distributed over two separate hulls.
Always of the moment, maximum comfort, refinement and distinctive liveability are the hallmarks of all Bluegame models.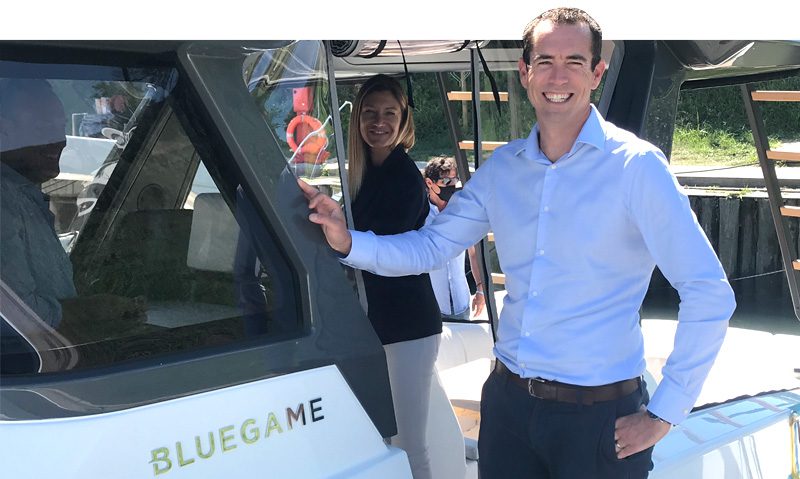 For more information, contact: Nick Hatfield
Bluegame Brand Manager
Having grown up in and around the water, Nick spent many years competitively racing an assortment of dinghies and yachts around UK and European waters. Following university Nick joined Ancasta and spent a number of years successfully running the busy Lymington office before taking the reins of the Prestige Motor Yacht brand for Ancasta. During his tenure, the Ancasta / Prestige dealership won a succession of awards for both sales and service whilst successfully growing the brand into one of the top three most popular motorboat brands in the UK.
Now heading up Bluegame UK, Nick is excited to be introducing this new brand to the UK audience.
+44 (0)2380 450 001
[email protected]