Dame Ellen MacArthur seeks fundraising support from Round the Island Race for EMCT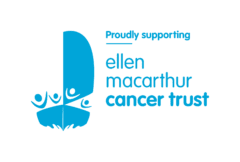 Are you taking part in the Round the Island Race this weekend?
Dame Ellen MacArthur is calling on competitors to help transform the lives of young cancer survivors by raising £200 for the charity's 20th anniversary in this Saturdays's race.
The Ellen MacArthur Cancer Trust, which is the official Round the Island Race charity, inspires young people to believe in a brighter future after cancer treatment through sailing and outdoor adventures.
Dame Ellen herself will be racing in the event for the second year running, joining a crew of 16 young people living through and beyond cancer.
The Trust's month-long #200for20 anniversary fundraiser launches on 1st July and donations of £20 can be made by texting RACEFORALL to 70460, or search '2023RTIR' on justgiving.com.  If you would like to donate by text but do not wish to hear more from the charity, please text RACEFORALLNOINFO instead.
Money raised goes towards helping 700 young people from across the UK experience the magic of the Trust this summer – more than ever before. By the end of the summer, more than 3,000 young people will have joined an inspirational sailing adventure with the Ellen MacArthur Cancer Trust since 2003.
Join the Ellen MacArthur Cancer Trust's Round the Island Race fundraiser at https://www.justgiving.com/campaign/2023RTIR and head to ellenmacarthurcancertrust.org for ideas on how to fundraise and more information about the charity.