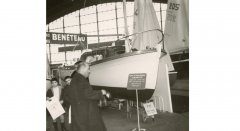 A 35 year old relationship….
The Ancasta – Beneteau Relationship
For over 35 years, Ancasta has been one of the leading dealers for the Beneteau Group providing a high level of service to customers from all over the world. Guiding clients both through the purchase of their boat and beyond.
The company's origins began back in 1884 making it the oldest boat building yard in the world to still be run by the family as a majority. The original yard built by Benjamin Beneteau was on Quai des Greniers and built predominantly fishing boats. They were all with sails of course, but for these fishing boats, performance was judged by who got back to harbour first, since the first there would sell his fish at the best price. Hence this search for performance that would remain central to architects and builders within the brand for decades to follow. In 1909, the approach of the engine had sounded and, whatever the cost and consequences, he would design the first engine-powered fishing boat in the region.
After two wars, many ups and downs, the introduction of polyester and the business being passed through numerous members of the family, Beneteau had unknowingly created a new market segment referred to as the recreational fishing boat. With the first "range" being produced in the late 60's (3.6 to 5.8m.) and their first appearance at the Paris Boat Show in 1965, it was there that opportunity enabled a more formal order book and the decision was made to distribute through a dealership. The early 70's saw investment and growth with a new plant and more staff. New architects, new boat builders and yet still a family run business.
With boating getting ever more popular and a developing race scene Beneteau were in the thick of it with many awards and titles to their name. The 80's were a time to concentrate on building the brand and the dealer network.
Then came the Oceanis cruising range, the Firsts were revived and the introduction on the one-design Figaro class.
The coming years saw global economic challenges, the introduction of CNB in Bordeaux, IRM mobile homes and the coming together with long-time rivals, Jeanneau. 2008 saw the introduction of the Italian brand Monte Carlo Yachts and by now the Group had a formal board (still mainly family members) and further acquisition was to follow that has resulted in the current Group comprising of: Beneteau, Jeanneau, Prestige, CNB, Lagoon, O'Hara, I.R.M, BH, Four Winns, Glastron, Wellcraft, Scarab & Monte Carlo Yachts.
Ancasta is proud to being part of the phenomenal growth of the Beneteau brands, dealing primarily with the UK market and Brits overseas. It is a partnership that has grown stronger over time and delivers the perfect combination of innovative product and end to end delivery and after sales service. If you are not already part of the family, we look forward to inviting you onboard.
Ancasta Team.
For the full story, see below: