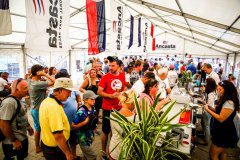 Ancasta supports the Plymouth Regatta for the second year.
Ancasta are proud to be supporting the Plymouth Regatta for the second year.
The event is running between the 12th – 14th July 2019 and is fast becoming one of the South West's favourite and most popular regattas with fun and competitive racing on the water, followed by a lively race village and entertainment programme in the Yacht Haven.
If you are new to racing? The Plymouth Regatta has an open invitation to all yachts, regardless of your competitive spirit. If you're just hoping for a fun and social sail around a course with other like-minded yachts and teams, then enter the WHITE SAIL fleet race. This race is a great way to learn about racing, without feeling intimidated by the competitive teams. Entry is open on the official website.
For racers, sailing in the Plymouth waters is hard to beat. Inside Plymouth Sound provides flatter waters but with hills surrounding this playground, racers are kept on their toes by plenty of wind shifts. Outside of Plymouth Sound has a racing area with minimal tidal influences but rougher seas which have built from the Atlantic Ocean.
There is a new formula for the event this year with fleets and courses being set for each handicap system – You choose which one you want to race in. This year the event will incorporate the Seascape 18 National Championships and also the South West VPRS Championship. As well as those championships we have racing available for MOCRA, IRC, J24, Squib and Port Handicap Cruiser racing. In addition there will be a single handed race for those that prefer to go it alone.
Participants will berth at Plymouth Yacht Haven who can provide lifting and launching facilities for those arriving by road, pre-regatta race scrubs (by arrangement) as well as pontoon berthing throughout the regatta.
For full details, see the official website HERE.