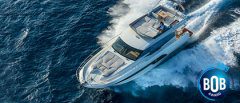 Prestige 590 nominated in the "Best for Travel" Category
The Prestige 590 has been nominated for the 2019 Best of Boats Award.
We are proud to announce that the 590 from Prestige has been shortlisted for the "Best for Travel" category in this years Best of Boats awards.
With understated luxury, the 590 delivers living spaces aboard worthy of a super yacht and boasts incomparable cruising comfort through its hull design, propulsion system and twin Cummins engines.
The Best Of Boats awards recognise powerboats and yachts, selected by a jury of no less than 18 specialised journalists from the marine press. The Awards Ceremony itself will take place on 21st November at the Berlin Boat Show and we will bring you the results here.
For more information or to view the Prestige 590 we have in stock, call: +44 (0)2380 450017 or email: [email protected]