Lagoon 51
Nominated for Multihull of the Year 2022
Beneteau Oceanis Yacht 60
Nominated for Cruising Yacht of the Year 2022
Beneteau First 36
Nominated for Performance Yacht of the Year 2022
Lagoon 51, Beneteau Oceanis Yacht 60 & Beneteau First 36 Nominated for British Yachting Awards 2022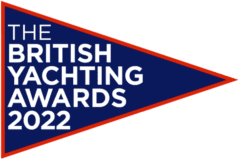 Lagoon
Nominated for Multihull of the Year, the Lagoon 51, newly launched this year, has been turning heads and receiving fantastic reviews at this year's boat shows. It has also been nominated for European Yacht of the Year 2023.
Beneteau
The Beneteau Oceanis Yacht 60 has been nominated for the Cruising Yacht of the Year award, and the Beneteau First 36 has been listed under the Performance Yacht of the Year category. Both yachts have also been shortlisted in the European Yacht of the Year 2023 awards.
Cast your vote!
Winners of the British Yachting Awards 2022 are determined by the public, so please follow the link below to cast your vote. Voting closes at midnight on 6 November 2022. The winners will be announced at a ceremony at the Royal Thames Yacht Club on 28 November and in the February 2023 issue of Sailing Today.