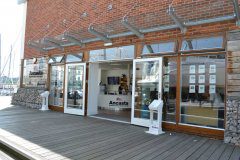 COVID-19 Update #1
In line with the latest government advice on the Coronavirus (COVID-19) situation, we are pleased to say that all divisions of the Ancasta Group are still fully operational. We take the health and wellbeing of our staff, customers and suppliers very seriously and have therefore introduced procedures and precautionary measures to enable viewings to proceed, service teams to operate safely and for your boat search to continue.
Wherever possible, Ancasta Group staff have been working from home and meetings held remotely. Our boat sales offices remain open in the UK and there are strict standards of hygiene implemented in and around our office environments.
If you have a boat for sale with us at this time, you can rest assured that we are still working hard to find a buyer. All our brokers are working on your behalf either remotely or from our office locations conducting viewings where possible or delivering video walk-throughs / 360 degree tours to those unable to travel.
The Aftersales and Customer Service Teams are all still very much available and awaiting your call.
All the teams can be reached by phone, email, WhatsApp or via post so although we are monitoring this unprecedented situation on a daily basis, we are currently running business as usual.
For full contact details for our Brokerage, New Boat Sales or Aftersales and Support Teams, please see: HERE
Thank you for your support.
If you are currently self-isolating and are unable to check on your current boat, please see here.