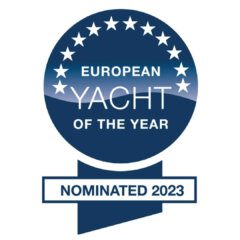 BENETEAU nominated for European Yacht of the Year Awards 2023
Beneteau First 36 and Oceanis Yacht 60 up for nomination
We are delighted to announce that two models from the BENETEAU sailboat range have been nominated for the European Yacht of the Year 2023 awards.
Launched in 2022, the new Beneteau First 36 has been put forward for the 'Performance Cruiser' category. Building upon the Beneteau First heritage, the First 36 achieves a perfect balance between comfort and performance, elegance, and utility, as well as high-tech construction and reasonable cost. This nifty performance cruiser is designed by sailors, for sailors, and has no features without purpose, so we expect it will be a firm favourite amongst the judges. 
The second boat nominated is the Beneteau Oceanis Yacht 60 under the 'Luxury Cruiser' category. With it's world launch at the upcoming Cannes Yachting Festival, 6-11 September, the Oceanis Yacht 60 boasts an elegant and sophisticated silhouette while preserving excellent sailing performance. The judges are likely to be impressed by the light and spacious interior, as well as its extensive side decks that run seamlessly from the helm stations to the bow, offering obstacle-free movement around the boat.
This is the 20th edition of the European Yacht of the Year awards. Candidates are nominated by twelve jury members from across Europe, and the winners will be selected following extensive sea trials. The final winners will be announced at the Düsseldorf Boat Show 2023.
The First 36 and Oceanis Yacht 60 will be available to view at the Cannes Yachting Festival so please get in touch if you would like to book an appointment.