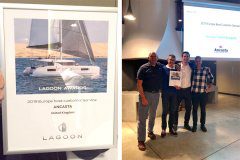 Ancasta recognised for Customer Service
Customer service and support is immensely important to Ancasta. Time and money are strategically invested to ensure customers have continued support during not only the purchasing process but throughout their entire boating life.
Ancasta's Commissioning and Aftersales teams are highly experienced, professional individuals from a broad background ranging from superyachts to charter fleets and boatbuilders to project managers. Collectively, they deliver one of the best and most consistent after sales services in the industry. This is one of the fundamental reasons why so many customers come back to Ancasta for support, advice and boat maintenance.
Ancasta's service and support capabilities are further enhanced by two other parts of the Ancasta Group: Hamble Yacht Services Refit & Repair and Advanced Rigging & Hydraulics.
It is the continued recognition of this by both the manufacturers and customers themselves that reinforces Ancasta's customer focused strategy. This latest award from Lagoon Catamarans for Best Customer Service in Europe endorses this approach.
For more information on Ancasta Aftersales, Parts or Customer Service – contact: [email protected] or call: +44 (0) 2380 604 677