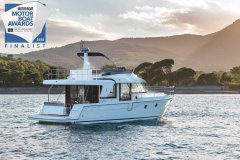 Swift Trawler 41 – Shortlisted!
We are proud to announce the new Beneteau Swift Trawler 41 has been shortlisted for the Motorboat of the Year awards under the Adventure Yachts category.
The Winners have been scheduled to be announced at the Awards Ceremony to be held in Dusseldorf on the 21st Jan – coinciding with the Boot Dusseldorf Boatshow. The 41 is available in both a flybridge and Sedan format and both are proving extremely popular amongst existing trawler owners and those new to the brand. The design, finish, layout and performance is second to none and so we look forward to hearing how the judges come to their final decision!
To see the review by Jack Haines, see: http://bit.ly/2OSx6mh
To view this fantastic addition to the Swift Trawler range, join us in Dusseldorf between the 18th  – 26th January: http://bit.ly/2rdfMzf