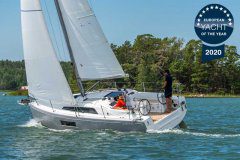 European Yacht of the Year 2020
European Yacht of the Year 2020
Proud to announce that the Beneteau Oceanis 30.1 won the Family Cruiser category in the European Yacht of the Year Awards 2020.
Winners were announced on Saturday evening's Flagship Night at boot Düsseldorf and were chosen by a jury consisting of testing organisations and the editors-in-chief of some of Europe's sailing and powerboating magazines.
Sixteen candidates were thoroughly tested and rated with journalists sailing almost 2,500 sea miles, or more than 4,500 kilometres, with the nominated yachts in the course of a week
You can view the 30.1 at Dusseldorf Boatshow which is running through until the 26th Jan.
To find out more and to arrange a viewing see HERE