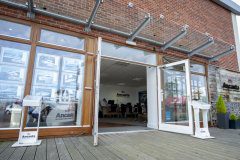 Our doors are OPEN!
UK Update:
Buying a Boat? – Now that lockdown #2 has come to an end in the UK, we are pleased to announce that all our office doors are OPEN to the public and we are able to continue to conduct viewings, sea trials and the complete process of sail and power boat sales. Operating under the same conditions as pre lockdown, you can rest assured that you will be in a safe and secure environment when conducting all stages of your boat search.
Selling a Boat? – We have continued to list new pre-owned boats throughout the Autumn and can confirm there is still an unusual level of demand (from many people planning to get afloat in 2021).
If you are considering selling your boat – please get in touch with your local office today and we will view the boat, provide a valuation and when agreed, initiate the process of finding the buyer. Boats are still selling faster than we can remember so now is the time to list with us.
Find your local Ancasta office HERE.
Update from around Europe:
Business are open in France. We can arrange viewings, conduct surveys and seatrials as before and the offices are open (with only one broker). From 15Th Dec, if there are < 5000 contamination per day, we can travel everywhere in France without restriction distance.
In Belgium, the restrictions have been partially released. Shops and hotels are open, masks are mandatory. People who want to rent or buy a boat are only allowed to visit the boat alone.
The Mallorca offices are all running as normal. We are allowed to do everything for the time being around the Balearics.
Travelling to Spain however from outside, visitors, must show a negative Covid test not older than 72 hours.
Of course all our offices are able to provide live virtual tours and will do everything possible to accommodate your boat viewing.
The Ancasta Aftersales and HYS Refit & Repair teams have been working throughout the year to ensure your boats are commissioned, repaired and serviced to the same professional level as all our customers have come to expect.
See below for more information on the Safe Conduct Policy in place across the Ancasta Group.

VIRTUAL BOAT VIEWINGS
New restrictions mean that making the journey to the physical location of the boat is no longer permitted. All our offices are still manned and our brokers are primed and ready to deliver a live walk-through of the boat you wish to view. These walk-throughs can be booked* in advance at a time that is convenient to yourself and they can be conducted via Zoom, FaceTime or Skype.
These personal tours accompany the existing boat introductions, 360 degree tours and further detail that can be found on the specific boat pages on this website. They also allow for questions and further detailed investigation of the boat from the comfort of your own home. Call the relevant Ancasta office to book your personal appointment to view.
PHYSICAL BOAT VIEWINGS
Full details of the boats location and access instructions will be provided by the broker.
The boat specification will be provided as a pdf by request ahead of the viewing for the client to view and / or print at home.
The broker will provide car parking details at the boats location. Individuals from different households should arrive in separate vehicles and will be able to view the boat separately if required.
Access to the Ancasta office is not required and may not be available at some destinations. Therefore, no toilet or facilities will guaranteed so please allow for this in your travel plan.
Ancasta will ensure a period of 48 hours between viewings or since the current owner has last been on-board.
The boat will be cleaned and open in advance of the viewing appointment. The Ancasta broker will wipe down all main surfaces, hand-rails, ladders and other key areas between viewings.
Brokers may be wearing masks as an added precaution to protect both the client and themselves.
There is a limit of two individuals permitted to view the boat in any single viewing to help safeguard all those concerned. Unfortunately children are not permitted onboard during viewings at this time.
There is no need to come into close contact with the broker directly however, the Ancasta broker will be available at a distance on the pontoon if required. For viewings ashore, the Ancasta broker will deliver the safety guide for ladder use and will then stand at the rear of the craft to allow the customer to board and look through the boat. They will be available for questions throughout.
Surveys or other works* can be carried out under the instruction of the client or broker.
Any paperwork or documentation that requires a signature can be done electronically if requested by the client.
SEA TRIALS
Sea trials are not permitted at this time. Trials can be scheduled for early December but confirmation will not be possible until closer to the date.
NEW YACHT & MOTORBOAT HANDOVERS
Virtual handovers are available for new owners whos travel is currently restricted.
Ancasta have recently carried out a full day's virtual handover via zoom and delivered the boat to the owners home port ready for her new owner to jump onboard when he is ready. The Handover was recorded to allow the new owner to retain a record of all the information delivered during his handover process.
Physical handovers cannot be carried out at this time.
YACHT & MOTORBOAT MAINTENANCE
The teams at Ancasta Aftersales, Advanced Rigging and HYS Refit & Repair have been working (in accordance with government distancing guidelines) throughout the pandemic and continue to deliver professional work on owners' boats in the Solent region and beyond.
The teams continue to:
Commission new sail and powerboats
Conduct maintenance on owners yachts
Winterise power and sail boats ahead of the coming winter season
Actively repair and upgrade customers yachts in preparation for 2021.
Quote for new works required over the coming months.
The Ancasta Group has prepared carefully to help you with your boat search, purchase or maintenance in these difficult times. Public access to our sales or aftersales offices is now restricted however, if you have ANY requirements for your boat, please do not hesitate to contact us as we are still fully operational in all areas of the business.
Contact us now to ensure you are on the water in 2021.
For more information please call:
Contact Ancasta Brokerage: +44 (0)2380 450 000
Contact Ancasta Aftersales: +44 (0)2380 604682
Contact: Advanced Rigging: +44 (0)2380 454 280
Contact HYS Refit & Repair: +44 (0)23 804 54 111
Please note that this notice will be updated in-line with developing government guidelines over the coming weeks.
*dependant on location, third party suppliers, marina operators & government advised restrictions.