Ancasta Wins Bluegame Award at Cannes Yachting Festival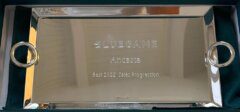 Best Sales Progression in 2022
On the first day of the Cannes Yachting Festival, Ancasta celebrates winning Bluegame's dealer award for Best Sales Progression in 2022. As the UK's sole dealer for Bluegame, we are delighted to accept this prestigious accolade that recognises the team's success in introducing the revolutionary Bluegame range to the UK market.
Bluegame Yachts at Cannes
Bluegame produces unconventional vessels which escape any categorisation as a result of its "Game changer" vision. Bluegame courageously dares to go where others stop. On the quays of Vieux Port, from 6 to 11 September, Ancasta will be presenting a range of sensational Bluegame yachts including:
BG42 BIG GAME – A fisherman's version of the historic entry-level model, with sportive equipment and a highly original graphics.
BG54 – A newcomer for 2022 that revives the concept and design of the BG72 and which was given an enthusiastic welcome at Cannes last year.
BG72 – Unites fly boat and open boat enthusiasts.
BGX70 – The first model in the revolutionary 'unexpected' range launched in 2019, which garnered immediate success and countless awards.
Foiling High
The Bluegame team will also unveil images and details of BGH (Bluegame Hydrogen), the first foiling America's Cup chase boat with hydrogen propulsion, at the show. Designed for New York Yacht Club American Magic, challenger in the 37th edition of the America's Cup to be held in Barcelona in 2024, the vessel boasts the highest technological achievement possible, and is extremely beautiful. The contract signed with New York Yacht Club American Magic is recognition of Bluegame's design value, its ability to dare the unthinkable, to dream and succeed in realising its dreams.
Join Us
Join us on the docks or in the elegant and comfortable lounges of the Bluegame/Sanlorenzo stand at Cannes Yachting Festival via appointment – please contact [email protected].