Passagemakers:
THE BENETEAU SWIFT TRAWLER 47

Sportscruisers up to 45ft
PRESTIGE 460S

Sportscruisers over 45 ft
BENETEAU GRAN TURISMO 50

Flybridges up to 60ft
PRESTIGE 520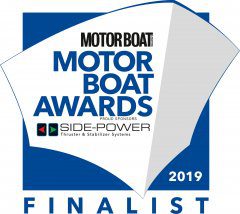 Motorboat and Yachting Magazine Awards 2019
Our Award Winning Brands….
We are proud to announce that not ONE but FOUR of the new boat models we represent have been shortlisted as finalists in this years Motorboat & Yachting Motorboat of the Year Awards.
After much debate, the judges have narrowed down the list of finalists for this year's awards from the pool of boats tested by the experienced team at MBY. The winners will be revealed at the Corinthia Hotel in London on May 7th and we will be bringing live updates from the evening.
The nominees are as follows:
Sports Cruisers up to 45 ft – Prestige 460S
Sports Cruisers over 45 ft – Beneteau Gran Turismo 50
Passagemakers – Beneteau Swift Trawlers 47
Flybridges up to 60 ft – Prestige 520
We will keep you updated from the ceremony on the night and for more information on the awards and the judging process, see HERE