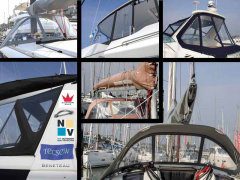 Canvas renewals and Sail servicing for less
20% OFF*
CUSTOMER SERVICE SPECIAL OFFER:
Freshen up your boat Canvas and check your Sails ahead of the season!

Ancasta Customer Care are proud to announce a special offer for owners looking to replace their boat canvas this Spring. For orders placed before the end of May 19, owners will enjoy a 20% discount on new canvas hoods, covers and cockpit enclosures for any size or brand of sail or powerboat*.
There is also a 10% discount offer on sail servicing to help keep your safe this season.
All works can be carried out from Ancasta's Service Centre in Hamble (near Southampton) or Palma (Mallorca) depending on the location of the boat.
This offer is available from now until the 31st May 2019.
For a quote, simply contact Ancasta Customer Care on: +44 (0)2380 604 677 or Email: [email protected]
*Ts&Cs apply:
While this offer is available to all boat owners of all models, please be aware that not all canvas details are available due to a boats age or type however  Ancasta will do all that it can to source your boats specifications.
Installation is dependant on the boat location
Ancasta reserves the right to withdraw this offer at any time