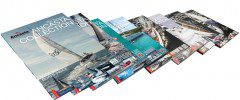 The Ancasta Summer Collection - OUT NOW!
Welcome to Ancasta's 2017 Summer Collection.
"Summer has well and truly arrived here on the south coast of England. No doubt the Ancasta offices in France and Majorca have been enjoying their summer for some weeks already. In the UK, we have already had our first Motor Boat Club Cruise and the Fast 40's are starting their 3rd event this year as I write this. 
Looking ahead, this boating season looks as busy as ever. We have more cruising events planned, which reflects their popularity. In addition to Cowes Week, this year is a Fastnet year and with 400 yachts entered, this will be the biggest edition of this classic offshore race. The Ellen MacArthur Cancer Trust will complete its "Round Britain Challenge" and by the time this edition is published, we will know where the America's Cup is destined.
Purely by coincidence, you will see inside that Ancasta is opening its first office in the Southern Hemisphere, in the amazing yachting centre that is Auckland, New Zealand. Long term Ancasta team member, Sam Pearson, has moved to Auckland and is setting up the new service. Historically Ancasta has had a lot of trade from both New Zealanders and Australians looking to access European boats and having an Ancasta presence in this part of the world will encourage that further. Should the Kiwis secure the America's Cup then our new venture will be given an unexpected boost.
Ancasta has enjoyed its busiest new boat commissioning season ever. Despite the uncertainty surrounding Brexit, exciting politics as well as fluctuating exchange rates, the boat market for both new and used yachts over the last eight months has been very strong.
This buoyant boating market is due to several factors. Ancasta's reach into non-UK markets continues to grow. Our manufacturers have invested in a great deal of new product over the last two years and those efforts are now generating good sales. We are also pleased with our Brokerage business, which has also performed extremely well. This is due to the extra investment in technology and improved processes, backed up by arguably the strongest team of individual brokers supporting the Ancasta Network. Finally, it does appear that despite the uncertainties, the boat owning public has decided enough is enough and that boat ownership austerity must end.
Looking ahead our sales for 2018 deliveries are also looking as strong as we have seen. Demand for certain makes and models is encouraging boaters to take the longer-term view. Ancasta's ability to provide an efficient part-exchange facility and very accessible finance enables our customers to commit to their longer-term dreams while still living their current ones.
We hope you enjoy this edition. As usual, there is a great collection of new and used yachts combined with a great deal of interesting and relevant information for our boating clients.
Have a great summer."
Nick Griffith
MD, Ancasta Group.