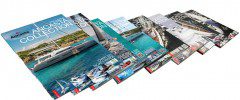 The Ancasta Spring Collection - OUT NOW!
Welcome to Ancasta's 2017 Spring Collection.
"We are all very much looking forward to the coming summer. The Winter period has been busy on all fronts and Spring, as you would expect, is even more hectic as we deliver on all the promises made during the Winter. Time to deliver.
The markets for both new and used have been buoyant despite the reasonably turbulent times we live in. The conclusion drawn is that boaters are a pragmatic bunch. Life is short and we need to make the most of it and that quite often means boating. We see examples of this every day and this helps explain why we are seeing good sales. Long may it continue!
One example of the "must get on with it" attitude has been the enormous growth in Yacht Charter. The growth in this particular sector over the last couple of years has been sensational. A big driver for this has been the approach to take Yacht Charter to a much broader market than the traditional marine market. People with little or no boating background are spending more and more on chartering yachts around the world. A by-product of this is that there is an increase in demand for boats. To fund this expansion Charter companies are looking to Charter boat "Investors", who buy boats and place them with Charter companies who, in exchange for being able to charter the boats, provide the owners / investors with various forms of returns while still providing time to use their boats or indeed other boats in exotic places all over the world. With the aid of modern yacht financing these arrangements are very much more affordable to many more people.
With this in mind, Ancasta has tied up with one of the leading Charter management companies, Navigare, who not only offer a wide range of fabulous Charter opportunities but also provide a very interesting programme for would be "Investors" looking to enjoy yachting in a fiscally responsible manner. Ancasta's roll is primarily to market and sell Navigare's Investor opportunities. The initial response has been startling. Inside this magazine there is an interesting article explaining Navigare's offering. Well worth a look.
Ancasta recently supplied a second Oceanis 45 to the Ellen Macarthur Cancer Trust for its base in Cowes. We are very pleased to be involved with this wonderful organisation. This year the EMCT is undertaking a Round Britain Challenge in order to help more young people recovering from cancer in the long term. The voyage aims to increase national awareness by visiting towns and cities around the UK during the four-month endeavour. Building new skills and forging long-lasting friendships, the team involved will also visit cancer treatment centres meeting people still in recovery and discussing possibilities after treatment. There is further detail inside on this great event.
In other news, the Summer, again, is filling up quickly. Ancasta's Motorboat Club cruise to Honfleur is oversubscribed, for the racers, the FAST40+ Class here in the UK is looking forward to the new season with an even larger fleet. There are numerous boat shows including La Grande Motte Multihull Show, Palma Boat Show, London on the Water, Poole Boat Show and the Portsmouth Harbour Multihull show. All of which are previewed within.
I hope you all have a great boating season."
Nick Griffith
MD, Ancasta Group.