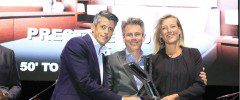 Prestige 680s Wins the "Best Layout" Award
We are proud to announce that the Prestige 680s has received the prize for "BEST LAYOUT" from the World Yachts Trophies.
Organized by the magazine, Yachts France, the awards ceremony for the World Yachts Trophies took place at the end of the Cannes Boat Show, on Saturday, September 16th 2017.
For over ten years, the event has brought together marine professionals, large yacht owners and shipyard management. The World Yachts Trophies have just recognized the best new models in the marine industry.
As Prestige dealers in the UK and Balearics, Ancasta are proud to represent the brand and welcome this recognition of the Sport Yacht concept, with the collaboration between Cabinet Garroni Design and Jean-François de Prémorel.
For more information on the 680s from Prestige Motor Yachts see here.