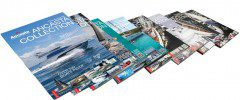 The Ancasta Autumn Collection - OUT NOW!
Welcome to Ancasta's 2017 Autumn Collection.
"Summer is the season when we all look forward to getting out on the water and this summer certainly brought enough warmth and wind for a good season to be enjoyed by all.
Cowes Week challenged even the hardiest of sailors with a cocktail of weather that saw some unexpected winners come to the fore following which a new record number of Fastnet crews set off for this most popular of long distance races. Those looking to improve their summer racing performance can find tips on improving your technique for downwind trimming within the pages of this issue.
For those who are not that keen on racing but who have the time to really enjoy boating and discovering the hidden gems of the British coastline, particularly the West Country, we hope you will enjoy reading our article on anchorages surrounding Plymouth and beyond. Ancasta is also pleased to announce the opening of a second office in this maritime centre, located in Plymouth Yacht Haven and helping to service the growing West Country market.
Those looking to improve their summer racing performance can find tips with numerous events to showcase the next generation of yachts that will be seen on the water next Summer.
Starting with Cannes Yachting Festival (12th-17th Sept) where Beneteau Sail is launching the Beneteau Oceanis 51.1 and 55.1. On the power side we will see the new GT 40 and SportFly 50 which are very welcome additions to the fleets on offer. In addition, Ancasta will be showing the much anticipated 520 and 630s from Prestige's new range of luxury motor yachts, while Lagoon will be showing the next generation in motor yachts with their innovative 78 alongside the new 40 and 50 foot sailing boats.
CNB will be there to launch the brand new 66 which is already attracting much interest, and will have a 76 there too, for sea trials.
Cannes is the leading European Show for the British market and each year more and more would be boat buyers make the trip in mid-September. If this is of interest, we would be delighted to assist, so please call if you would like to make an appointment. 
For the UK based boaters Southampton Boat Show is without doubt the big event and Ancasta and its manufacturers are delighted to be launching a number of new models at the show. Prestige will have the 630 and 560 there, while its 520 will see its UK launch, with the much awaited 460 making its UK debut alongside. Beneteau sailing yachts is bringing the Oceanis 51.1 for its UK debut as well as the beautifully appointed Oceanis 62. We are also pleased to present the world launch of the Swift Trawler 35. 
As ever, in tandem with the Southampton Boat Show, Ancasta will be showcasing a great line-up of boats at the Swanwick Used Boat Show. This is a very successful show, ably run every year by our Swanwick staff and is well worth a visit. The park and ride facility from Swanwick marina to Mayflower Park in Southampton is a great way to cover both these shows.  
Hamble Yacht Services Refit and Repair (HYSRR) along with Advanced Rigging and Hydraulics will also be in attendance at Southampton Boat Show with an array of the superb products they support and services they provide. If you are looking for a specific item for your boat or simply for some professional advice, they can be found in the Ocean Hall. 
We are hopeful that the busy summer and genuine lift in enthusiasm witnessed in recent months will bolster the boat show efforts. There is lots on offer for all and we very much look forward to seeing you at one of the shows. " 
Nick Griffith
MD, Ancasta Group.