The Solent Cruising Guide
Find out the best places in the Solent to visit by boat.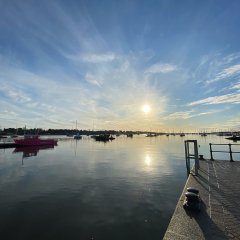 The Solent Cruising Guide
The Best Places Sail In The Solent
The Solent is home to a plethora of vibrant sailing towns and villages. From the sailing mecca of Cowes to the breathtaking views of Beaulieu River, there are plenty of interesting places to sail to up and down this famous stretch of water between mainland Britain and the Isle of Wight. Here is our guide for where to go sailing in the Solent.
Places To Go Sailing - The Solent
Cowes, Isle of Wight
No cruise in the Solent is complete without a visit to Cowes, located in the centre of the north coast of the Isle of Wight. The sailing mecca of the UK and home to the world renowned Cowes Week Regatta which attracts over 1000 yachts and 8000 competitors, Cowes is a yachtsman's haven with multiple marinas, modern facilities and plenty to see and do ashore.
Cowes Yacht Haven is at the heart of the town or if you want easy access to East Cowes, head to Shepards Wharf. Both marinas offer good quality facilities but can get busy at peak times so pre-booking is recommended.
Visit Cowes High street to enjoy an interesting mix of independent boutique shops as well as popular active lifestyle and nautical brands such as Joules, Musto, Fat Face, Henri Lloyd and White Stuff. Plus, indulge in a variety of friendly pubs, bars and restaurants offering everything from gastro cuisine and wood fired pizza to classic fish and chips and traditional indian curries. 
A walk along Cowes Parade offers stunning panoramic views of the Solent and 'The Green' is a perfect spot to rest tired legs, watch the comings and goings of the boats afloat and, dependent on the weather, enjoy a delicious ice cream or hot chocolate.
Furthermore, there are good bus links from Cowes town centre and lots of taxis on standby if you want to head further afield and explore some of the beautiful countryside and beaches that the Isle of Wight has to offer.
Beaulieu River
Set in the beautiful New Forest National Park, Beaulieu River is located towards the centre of the Solent on the mainland side. Renowned for being the home of the British National Motor Museum and Palace House, Beaulieu is a small, picturesque little village popular with tourists.
Head to Buckler's Hard Yacht Harbour for short stays with over 300 visitor moorings and 100 berths with 5 star onshore facilities. The historic village of Buckler's Hard is populated with beautiful Georgian properties and is famously known for its ship building heritage including being the place where Nelson's warships were once built. Take a visit to the Maritime Museum to find out more, or get the heart pumping with a brisk 2.5 mile walk along the river to Beaulieu village where you can enjoy a small selection of quaint tea rooms, delicatessens and shops.
Away from the tourist hot spots, Beaulieu River is a beautiful place to escape the hustle and bustle. Head further upstream on a high tide to explore areas of the river only accessible by boat. Downstream, keep a look out for Gull Island which is home to a variety of rare birds, the Mulberry oyster beds, the floating Mulberry Dock that was used in the D-D Landings, and Gins where the monks of Beaulieu Abbey kept their fishing boats and which is now home to one of Royal Southampton Yacht Club's clubhouses.
Yarmouth, Isle of Wight
Yarmouth is an old fishing village on the mouth of the River Yar on the north west coast of the Isle of Wight. Steeped in maritime history, Yarmouth is a picturesque spot to visit with famous landmarks near-by as well as a vibrant social scene.
The Royal Solent Yacht Club offers modern facilities to yachtsmen of affiliated clubs or there are plenty of berths and mooring buoys in the Yarmouth Harbour marina. This is a popular place to visit and can get extremely busy so it's best to beat the crowds and arrive early or try and pre-book. 
From here you can explore the 'West Wight' which boasts vast stretches of Heritage Coast easily accessed by the coastal road and footpath, or why not take advantage of 'The Needles Breezer' open top bus tour leaving Yarmouth every 30 minutes during peak season to see the sights. Must-see landmarks include the white chalk cliffs of the Needles and multicolour sands of Alum Bay.  
Or, if you're feeling a bit more energetic, grab a bike from Wight Cycle Hire at the old Yarmouth train station and explore the River Yar on two wheels. And for those of you who are really keen, take on a challenging 62 mile round the island route.
Alternatively, if you don't want to venture too far afield and instead relax in Yarmouth itself, why not have a picnic at Yarmouth Castle, one of Henry VIII's last coastal defences, with beautiful views over the Solent. Or, for a more substantial meal, head to Salty's for delicious fresh fish and enjoy live music in the fun and friendly bar.
Newtown, Isle Of Wight
Get away from it all with a trip to the tranquil and secluded Newtown Creek on the north west coast of the Isle of Wight. Owned by the National Trust, the estuary is teeming with extraordinary wildlife and is one of the most undeveloped spots in the Solent area. 
Historically, Newtown was a large producer of salt and was more recently saved from becoming the site for a new Nuclear Power Station due to its diverse wildlife, unique ecosystems and untouched natural beauty. The old salt marshes now provide home to a variety of birds, rare butterflies and if you're lucky you might spot a red squirrel too. 
If you want to stretch the legs, take the four mile Newtown estuary walk around the nature reserve and explore the interlacing web of streams and creeks. Alternatively take some time to relax onboard, recharge your batteries and enjoy the stunning natural beauty of this special little anchorage.
Part of the charm of Newtown is that onshore facilities are non existent and the tiny village has only a church and a few houses - no shops or pubs - so make sure you're well provisioned for your visit. However, this little oasis can get very busy at the weekends and during holiday times so it's best to head here out of season or during the week to see it at its best and for hassle free mooring.