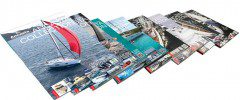 The Ancasta 2018 Winter Collection - OUT NOW!
Welcome to Ancasta's 2018 Winter Collection.
"As the wind swings northerly and the temperature drops through the floor here in the UK – we, like many of our customers are turning our attention to next year's on-water pursuits; innovations in product, ownership schemes, equipment and in the ways we go boating – there is a great deal to consider. The content within is a great starting point, followed closely by attending the big winter boat shows. 
New Boats
Having just experienced the most positive Cannes and Southampton Boat Show for a decade, 2018 is looking like being extremely busy for our New Boat manufacturers: Beneteau, Prestige, CNB, Lagoon and McConaghy. With new, innovative sail and motorboat product coming from each of them, there is a lot to be excited about. Most recently, we saw some early photographs of the new advanced composite McConaghy MC50 Catamaran, which is in-build as I type. Between the 50, 60 and 77 models, McConaghy have now received seven orders – the first of which will be on display at La Grande Motte next April.
London Boat Show
The new three show / five day format for the 2018 London Boat Show in ExCeL is set to be great for both visitors and the industry. All the major brands are going to be there and Ancasta will be representing Prestige Motorboats and Beneteau Sail & Power. See the preview in the first few pages of this magazine.
Dusseldorf Boat Show
Closely following London comes the mighty Boot Düsseldorf boat show. With sixteen halls, encompassing the entire marine industry in one location, it is one not to miss . A short flight and transfer gets you to the door and it is well worth taking a couple of days to experience. See our Dusseldorf Boat Show Travel Guide for more information.
Sailing Guides
The destination feature in this issue is Brighton with its eclectic culture and extraordinary marina facility. There is also a round-up of last year's Ancasta & HYSRR sponsored Fast40 race series and an update from both The Maiden Factor and The Ellen MacArthur Cancer Trust.
Boat Ownership Options
If you are looking to get afloat, we have included a simple guide to the many boat ownership options. Interest in the various ways to own a motor or sailboat is increasing. With this in mind, we have included a breakdown of what is available to help you find a path to boat ownership that suits you. 
Foiling
With the introduction of the Figaro3 from Groupe Beneteau, we have taken a look at Foils, where they have come from and what the future might hold. This is particularly pertinent following Team New Zealand's recent announcement about the new America's Cup class.
You will also find over 480 new and used boat listings to peruse.
We hope you enjoy this issue – feedback is always welcome along with your stories and experiences on the water. There is a lot available to view over the winter months and we look forward to seeing you at London, Düsseldorf or even for coffee in your local Ancasta office." 
Nick Griffith
MD, Ancasta Group.