Gelcoat, GRP and Composite Boat Repairs
Contact us for all your fibreglass and composite boat repairs and modifications.
Gelcoat, GRP and Composite Boat Repair and Modification
The repair of GRP and composite boats requires expert knowledge and skill to ensure a seamless finish. From collisions and groundings to general wear and tear, we can get your yacht or motorboat back on the water quickly and efficiently. With a dedicated laminating workshop, our team can accommodate a wide range of yacht repairs, from complete structural repairs to cosmetic hull and deck work for GRP and carbon. Composite and fibreglass construction and repair is both a science and a fine art; we can tailor a customised solution whatever your requirements.
Carbon Fibre Repair and Modifications
Repairing carbon fibre damage is a specialist skill that our team carries out with care, scarfing the original layers and carefully laying new ones to ensure structural strength is not compromised. We can also craft a vast array of new structures, components and accessories from carbon fibre. Whether you need new stanchions, a bracket for your navigation equipment or a lightweight saloon table, we can custom-build a solution to suit your requirements.
Keel Repairs
Maintaining the keel of your yacht is essential for safe sailing. We recommend regular checks, and any signs of movement or keel bolt corrosion should always be inspected by a professional as soon as possible. Our team has lots of experience repairing keels and keel matrix structures following groundings, keel bolt failure, and water ingress. The extensive facilities at our base in Hamble Yacht Services allow us to lift your boat out of the water with ease and carry out the repairs swiftly.

Boat Insurance Repairs
In the unfortunate event of an accident at sea and an insurance claim, we at Ancasta Yacht Services will take care of everything for you. From inspecting the damage and preparing an insurance repair quote to hauling your boat, carrying out the repair, and delivering her back to her berth, our full-service offering alleviates some of the inconvenience and eases the stress of the situation.
Through Hull Fittings Services and Repair
We regularly install and service a variety of through-hull fittings, including engine intake, heads intake and air conditioning fittings. We also fit log transducers. Due to corrosion and damage, through-hull fittings typically need to be serviced and replaced every few years, so we provide a service for all through-hull fittings as part of our Winterisation Package.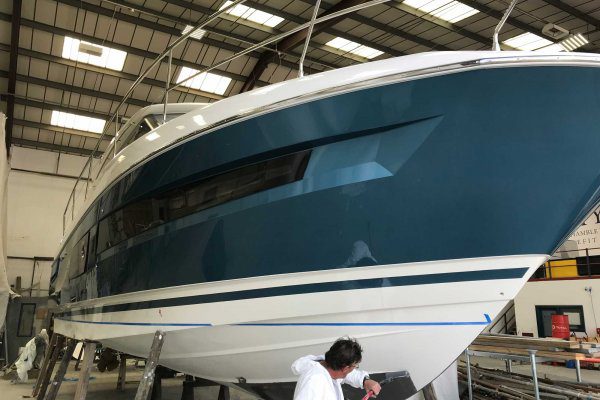 Ancasta Yacht Services Ltd
Port Hamble, Satchell Lane, Hamble, Southampton, SO31 4NN
The Port Hamble AYS Office with stunning views overlooks the River Hamble.
This is a prime location in the beautiful breathing space between the cities of Southampton, Winchester and Portsmouth.
Ancasta Yacht Services:
T: +44 (0)2380 454 111
Ancasta Yacht Services Enquiry Form