Yacht Winterisation Services
Prepare your boat for winter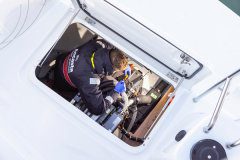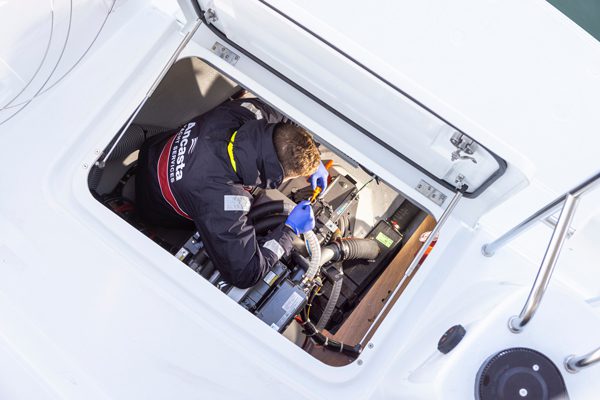 Boat Winterisation Services
Boat winterisation is essential to keeping your boat in good working order and making sure it is ready to go again come the spring. Harsh weather and inactivity can impact your boat's condition, and without proper checks damage can occur.
Based on the River Hamble near Southampton, the engineers at Ancasta Yacht Services are perfectly located to winterise your boat anywhere in the Solent area.
Our boat winterisation packages typically include:
Winterisation of your engine, generator, WC and batteries
Thorough check of the alternator, starter motor, engine mounts, lubricants and underwater fittings.
Outdrive service, cathodic protection and full gas system check where applicable.
Rig checks are available by request.
We accommodate a vast array of boat models and sizes and can tailor a package to suit your requirements.
Get a Boat Winterisation Quote
For more information or a quote, please complete the form below or call us with your specific requirements on: +44 (0)2380 454 111
ANCASTA YACHT SERVICES IMPORTANT NOTES
Vessels with mast (s) in place are more at risk in severe weather conditions. Owners are strongly advised to remove mast (s) for winter storage. All Sails and dodgers must be removed from vessels laid up ashore during the period 1st October to 31st March. On lift out, if sails etc. are still fitted, a removal charge will be made and may delay the lift out.
All craft on trailers left in care must be immobilised and any attached outboard motors must be fitted with anti-theft device in addition to normal method of attachment.
Whilst boats are ashore, no person is allowed to climb the mast or be hoisted aloft, or sleep aboard.
Engines must not be started whilst the boats are ashore.
If boats are stored undercover, all of the petrol is to be drained from the tanks.
All rubbish, including discarded paint and solvent tins, must be disposed of in the skips provided.
Engine Servicing – a charge of £5.00 will be applicable for the disposal of old engine oil and contaminated filters.
A charge will be applied for the disposal of redundant batteries of £5.00 per unit.
No welding, work with naked flames, or spray painting must take place.
No smoking in the building or onboard boats.
Only yard staff are allowed to move boat shores for whatever reason.
All contractors to report to the Reception / Berthing Office on arrival and departure. Contractors to provide Ancasta Yacht Services with a copy of their third party liability insurance policy for a minimum of £5 million.
Vessels being launched will be inspected for leaks at the time of launching before leaving our dock – no further inspection will take place unless specifically asked for – a further charge for this service will be made.
LOA is length overall of the boat including davits, bowsprits, boarding ladders, sterndrives, tenders, outboards, rudders, anchors, pulpits, pushpits and any other extensions for and aft of the boat.
The customer and any other person entering any part of our premises and/or facilities for whatever purpose and whether by invitation or otherwise do so at their own risk. No unaccompanied or unsupervised children.
All visitors to the workshop must first report to Reception.
Owners of vessels must provide own forms of suitable access onto their vessels once ashore. Ancasta Yacht Services Ltd will not provide any ladders or staging.
Ladders or Staging that are found not of a suitable nature will be removed on Health & Safety grounds.Your attention is drawn to our Terms of Business available on request.