Engineering Chargehand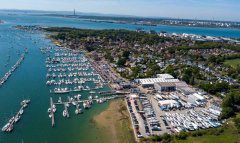 JOB DESCRIPTION
Role:                Engineering Chargehand
Reporting to:    Project Manager HYSRR
Aim – to lead the engineering team to maximise efficiency and ensure that work of the highest quality is carried out.
Specific responsibilities will include (but not be limited to) the following:
Carrying out installation and fault-finding service and repair on a wide range of marine leisure diesel engines ranging from 10hp – 900hp, gear boxes, drives and generators.
Carrying out installations, maintenance and repair of ancillary systems such as water makers, heating and air conditioning units, refrigeration systems and general plumbing systems.
Working knowledge of fault finding/diagnostics of general electrical systems.
Ensuring the engineering team work to the highest standards, protecting boats prior to works, leaving areas clean and tidy at the end of each day.
Motivating and ensuring the engineering team work as efficiently as possible, supporting them with any technical issues which might arise in the course of their work.
Supporting the sales team when estimating, with occasional visits to clients' boats to assess their engineering requirements and specifying parts for engineering projects when required.
Oversee the engineers training programs for Yanmar, Nanni and Volvo and other marine equipment.
Ensuring the engineering workshop and van are well maintained, clean, tidy and well organised; and tools are calibrated, fit  for purpose and PAT tested.
Ensuring that the engineering team work safely, adhering to all company H&S standards, assisting the Project Manager with new or updated Risk Assessments when required.
Reporting to the Project Manager on a daily and weekly basis, offering constructive input into the development of the department, suggesting ways to improve working methods and efficiencies.
Maintaining a professional and helpful attitude, passing on your technical knowledge and experience to your team members and leading by example.
Skills required:
Recent and relevant experience in the marine industry, knowledge of both power and sail boats systems essential.
Hold a recognised engineering and/or electrical qualification/or be qualified by experience.
Working knowledge of electronic engine management system testing equipment.
Working knowledge of fault finding/diagnostic general electrical systems, conversant with 12/24v DC and 240v AC power supplies.
Be a holder of a valid and current UK drivers' licence to enable off-site working when required.
Good working knowledge of general electrical systems.
Knowledge of H&S engineering systems within a boat yard.
Excellent communication and interpersonal skills.
Interested individuals should submit a copy of their CV together with a covering letter to Joanna Despard, HR Manager at the following email address: personnel@ancasta.com.
Closing date for applications is Friday 5 March 2021.