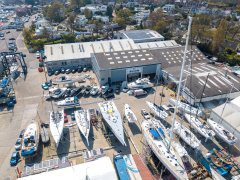 Commissioning and After Sales Technician
Role:                            Commissioning & Aftersales Technician
Reporting to:                Technical Aftersales Manager
Responsibilities will include but will not be limited to the following:
To take a full and active role in the planning, coordination and execution of the commissioning process.
Ensure the equipment required to commission the allocated boat is all present in advance where possible, communicating all late / outstanding deliveries to the Commissioning Manager, so suppliers can be chased.
To carry out a full detailed check of the boat making/coordinating the appropriate repairs as required.
Uploading Pinpoint with details and photographs of all snags, so claims can be made. Keeping points updated until conclusion.
Responsible for the day-to-day activities of contractors, ensuring that the boat remains on schedule and that the highest standards are maintained.
Complete the commissioning of each boat to the required standards ensuring the fitting of all equipment is in accordance with the manufacturers / Ancasta's standards.
Ensure that the timescales outlined in the commissioning programme are met and that the boat is available for handover at the prescribed date.
Carry out a full and thorough handover of the boat to the client, including a sea trial, in accordance with the company's guidelines ensuring that all documentation is completed and returned as required.
To be part of the Aftersales and Service team dealing with warranty and service work in the UK & abroad as and when required.
Assist with the general and shared functions to ensure the smooth operation of the department. Including good housekeeping of shed/stores and associated workplaces.
Carry out all work in accordance with the company's H&S policy.
Person specification:
Recent and relevant working knowledge within the leisure marine industry – this is a prerequisite of the role.
Proficient boat handling skills, particularly sailing boats. RYA qualifications an advantage.
Boat building skills/qualifications.
Excellent communication and interpersonal skills.
Ability to use own initiative as well as work as part of a team.
Current holder of a UK driver's license.
Interested individuals can email their CV to [email protected] before the closing date of Friday 14 October 2022.