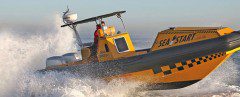 Sea Start
4 months FREE membership when you buy a boat from Ancasta
Our unique partnership with Sea Start allows us to offer 4 months FREE membership with every boat sold by Ancasta. We understand that it takes a few months to really get used to your new boat, so this is part of our commitment to ensuring you get maximum enjoyment from your boating from day one.
What is Sea Start?
Sea Start is the marine equivalent of the AA. Sea Start cover is 24 hr's a day, 365 days a year. Sea Start cover relates to yachts and motor boats, of all sizes. Your membership includes unlimited call outs.
Sea Start Facts & Figures
Average response time is 45 minutes
Over 90% of calls are resolved there and then
Over 50% of our members call for help each year
Over 90% of calls are at weekends or at night
15% of calls are to vessels with fouled propellers
Over 16% of calls are to vessels under 12 months old
Sea Start will give assistance on your home berth.
We will attend moored alongside or up to 3 miles offshore, from our designated ports.
We will endeavour to repair the problem so that you can be underway again in as short a time as possible.
Sea Start will tow your boat to a nearest safe refuge if the repair cannot be carried out alongside.
Service area not only includes most of the south coast of England, but also the Normandy and North Brittany Coast of France, the Channel Islands and Isles of Scilly.
If you simply have some technical questions you can give us a call and we will do our best to answer them for you.
And if you need to contact family or friends, we will act as a relay service.
Visit www.seastart.co.uk for more information