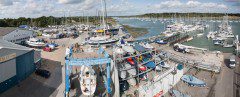 Boat Yard Services
With Ancasta Yacht Services
Decades of yacht maintenance combined with finely tuned process development means the Ancasta Group now has the ability to seamlessly support new and existing clients throughout the lifecycle of their boat ownership. Not only can a boat be purchased and sold under the Ancasta brand, but it can now also be maintained, repaired and upgraded to the highest quality via Ancasta Yacht Services.
This one stop facility is designed to streamline boat services and alleviate boat owners from time-consuming logistics and maintenance so they can maximise their time on the water. One company, AYS, supplying all the required skills and services rather than having to deal with a multitude of different trades and suppliers.
Services available include: Yacht Repair, Engineering, Painting, Joinery Equipment supply and fit as well as an extensive Yacht Care service.