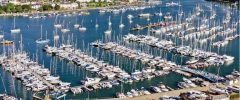 Berthing Solutions
After the decision to purchase a boat, the next consideration is often where you choose to keep her. This decision will be based on lots of factors including: convenience, facilities, service, distance from your home, distance to your preferred cruising ground and of course… cost.
With offices across UK and Europe in most of the leading marinas, Ancasta has a great relationship with the majority of marina operators (as they are often our landlords too!) and are well placed to advise and indeed help secure a berth at preferred rates in your preferred marina location.
Before you book your berthing, contact your local office and the Ancasta team will be able to help you explore your options.