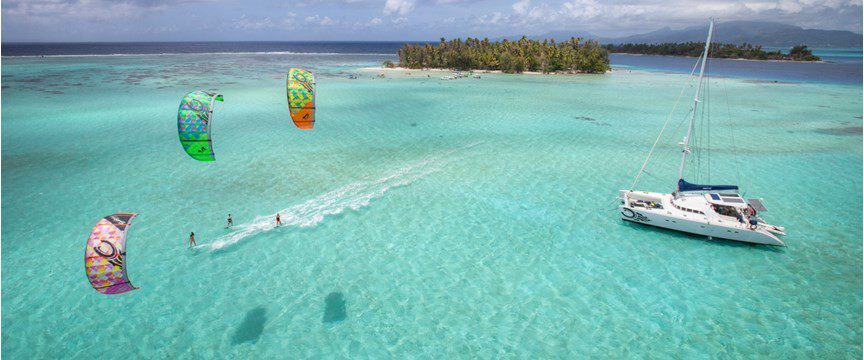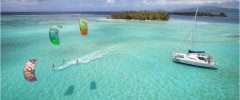 The advantages of cruising with a catamaran
...there are too many to list!
Imagine your own private 17 metre luxury Lagoon catamaran, professional crew, and a world cruising itinerary with an emphasis on sport any sailing adventurer would drool over. Imagine kitesurfing, spearfishing, surfing and sailing in remote places charter fleets don't exist. Imagine a five year itinerary which includes diving in the Galapagos, kitesurfing off the coast of Mozambique, spearfishing in Chagos, and blue water passages to one paradise after another.
Only for the rich? Someday when you retire? Guess again.
Offshore Odysseys, a blue-water expedition company that runs a membership yacht share concept called The Cabrinha Quest (Cabrinha is a kitesurfing equipment manufacturer and partner) that solves the cruising dilemma for people who are constrained by the two factors that keep most sailors bound to the marina, or dreaming on (Yachtworld): money and time. Gavin McClurg, the owner and founder of Offshore Odysseys says the writing has been on the wall for years. "Our clients all dream of cruising on their own yacht. But the reality of owning a boat, taking the time to learn to sail offshore safely, not to mention the expense and maintenance involved- it's pretty daunting for most people!" Gavin got into the charter business to help pay for a planned circumnavigation which started in 1999 in Santa Barbara, CA. on his previous boat, an older 52' Ron Holland sloop. He spent eight years at sea and nearly circumnavigated on the monohull, but never-ending maintenance and the never-ending rolling that comes with a monohull grew tiresome.
The fact is that most people who dream of sailing in remote locations can only do so through a typical charter company, either by bareboat or crewed charter. Offshore Odysseys filled the gap by allowing Gavin's clients to experience parts of the world where charter fleets don't exist. But operating in a new location every season proved difficult to market and pampering charter clients left a lot to be desired. Eventually a way to solve their problems as well as their clients' took shape.
"We sat down and decided exactly what we wanted to do with our lives. First and foremost, we wanted to have true adventures, not canned sailing trips to places everyone else visits. We have a major emphasis on sports. We want to play hard, not serve martinis. We wanted the freedom to design a perfect world-cruising itinerary. We wanted to sail the world with people who are as passionate as we are about discovery and the ocean," Gavin explains. Usually, business plans are developed with a market-first approach. Gavin is a firm believer that it should be the other way around. "We decided to take everything we've learned and design exactly what we wanted first then see if the market existed for our concept," he says. "The Cabrinha Quest is a 5 year world kitesurfing and sailing expedition aboard a luxury Lagoon catamaran financed by a small group of like-minded watermen and women who share in the dream and do it in style," says Gavin.
"The advantages of cruising with a catamaran are too many to list. Better ventilation, more speed, WAY more comfortable at anchor, shallow draft- I didn't know what I was missing!" Gavin explains. "We sold our monohull in Thailand in 2005 and set our eyes on a Lagoon. Custom cats all seemed like they had too many ill-thought-out designs, and in the production cats to me there was only one choice. Lagoons are built for offshore use, every little space makes sense, they are incredibly easy to sail and have the perfect mix of performance and comfort." Gavin should know, his Lagoon "Discovery" has nearly circumnavigated twice! Right now she's in Pohnpei, Micronesia taking their clients to some of the finest surfing waves on the planet. Next stop? New Caledonia, and the largest circular reef in the world.
But how much does it cost and what are the risks? "We are looking for others who share our sense of style and quest for adventure, people who are willing to take risks with us, knowing the adventure will be well worth it." Gavin says one of the major incentives for people is that unlike with typical fractional/shared yacht ownership, the costs in their membership program are straightforward and known up front. No hidden fees, no sudden jolts to the bank account when something breaks down. The only additional cost is getting to the boat in a new location each year. Professional experienced crew, beautiful privately owned catamaran, breathtaking places, and wild adventures. Finally, a business plan every sailor understands!
Gavin McClurg
Jody MacDonald
For more information, visit