Quick fire questions
With Erwin Bamps
Congratulations on your new position at PRESTIGE! Please can you tell us a bit about what your new role will entail?
Prestige Yachts is 30 years young and well established as a key player in both the small and the mid-size yacht market segment worldwide. Based on its fly-bridge market dominance in the United States and historic loyal customer base in Europe, Prestige Yachts aims to strengthen its global dealer network coverage, extending into newly developing yachting markets like Asia and the South-Americas. In my role I will closely oversee this true globalization of the Prestige Yachts footprint, as well as on new product development and services, with a focus on a growing global recognition of the Prestige Yachts brand.
You have an impressive CV of high profile managerial and CEO roles, what attracted you to working at PRESTIGE?
It's a coming of age story where today Prestige Yachts has an opportunity to step into the limelight, no longer simply as a key player in the industry, but with the possibility to help redefine and reshape the customer's yachting experience of tomorrow. With the investments of the Group pouring into the application of new technologies with a focus on making yachting more and more accessible, and the creation of inhouse innovation think-tanks around yacht utilization and boat ownership of tomorrow, Prestige Yachts is well placed to serve as the perfect vehicle for the introduction of these innovations to a global client base of yachting enthusiasts.
Yes, of course, we are relentlessly working on improving product styling, feature lists, as well as fit and finish every single day. But we are not only concentrating on hardware. At Prestige Yachts we don't lose sight of the total picture, understanding that the technical support, the purchase process including financing, and the total user interaction with the increasing technical complexity on-board these feats of engineering, have to be as hassle-free as possible.
I joined Prestige Yachts, because I believe the company holds most cards in the industry to be able to deliver a truly intuitive and enjoyable yachting experience, and will offer accessibility of the wonderful world of yachting to a wider public than ever before.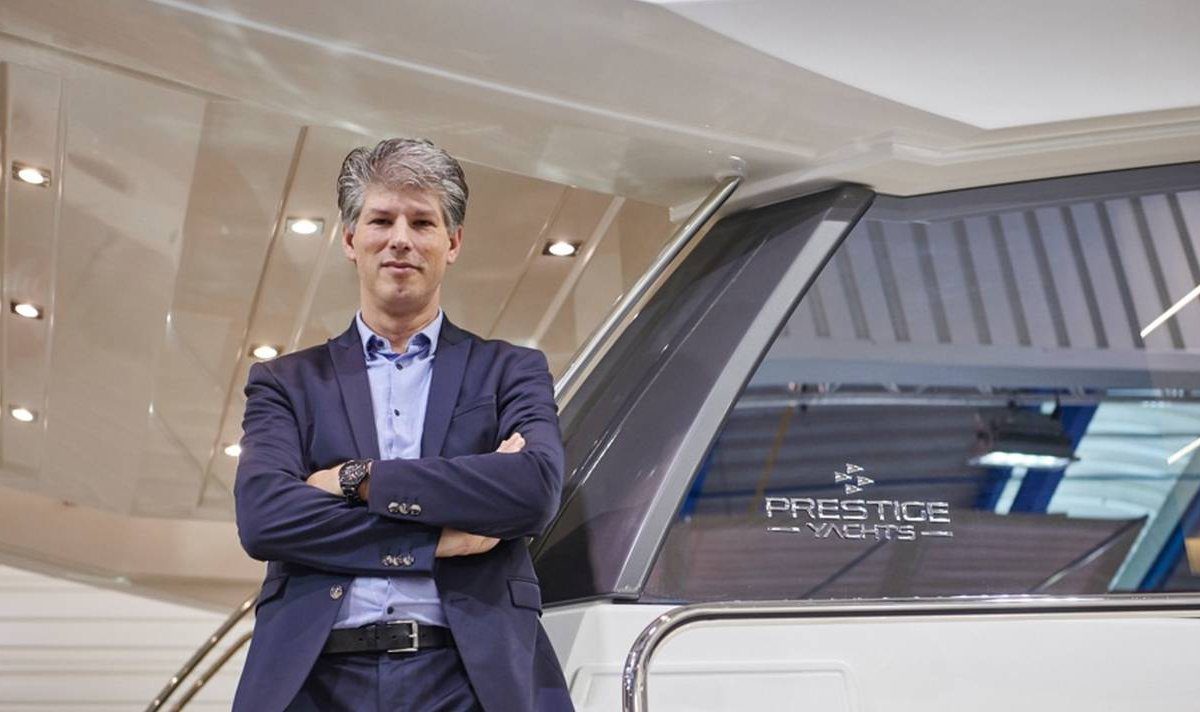 How did you come to work in the marine industry?
It was in the personal passion of an Emirati boat builder who did not only want to create composite superyachts, but wanted to build them in the desert of the Middle-East, and to market them under a home-grown brand name to customers worldwide, that I found a perfect manufacturing and brand-building challenge.
The leisure marine sector is rather niche, and usually speaks as much about artisans as about engineers, being a manufacturing sector that is floating between art and industry. It's intense and about a lot of head scratching to create technical solutions and walking paths that were never walked before.
It's always about team building rather than about technical challenges though, and I am still amazed about the creativity and problem solving skills that surface when you are working with a motivated group of people that wants to change the world.
I was pleased to find the same 'challenger' mentality in the Prestige Yachts team. Combine this with the highly industrialized manufacturing capabilities of the Group, and the large in-house know-how gathered during its long manufacturing heritage, and you have a recipe for success.
What do you enjoy most about working with luxury motor yachts?
You can not get the engineer out of the Directeur General, I am afraid. To create a feat of engineering that has to perform and keeps its passengers safe in any situation that nature throws at it, that houses 6 people and crew with abundant luxury and space on a surface area less than the average studio apartment gives great job satisfaction. Simply consider the fact that the sea is one of the most hostile environments on earth for electronics and electrical equipment, while at the same time we are studying to enhance on-board comfort with the addition of ever more connected, electronic devices and technologies. There are easier jobs.
But mostly however, my satisfaction comes from the fact that going out to sea offers the connectivity people really need. And I am not referring to the connectivity of WIFI, Instagram or Twitter. I am talking about the ability to switch off, really switch off, and bond with family, friends and loved ones. In a way, although we mainly build hardware and now are increasingly extending in supporting services, we are about bringing people together, face-to-face, with a backdrop of some of the most spectacular scenery on earth.
What are the most exciting PRESTIGE projects happening right now?
There are a lot of exciting new product developments on the table right now, but what has resonated the most with customers in recent months are our announcements in terms of integration of new technologies and features like the Raymarine Docksense, that is assisting and greatly simplifying the docking of a yacht. I noticed customers are starting to see that we are not only looking at regularly updating exterior styling, interior layouts and material selection. They have realized that we are just as much working on the fun in yachting as on new model releases, finishing touches and soft furnishings.
What can PRESTIGE customers expect to see from the brand over the next twelve months?
The Prestige Yachts kitchen is cooking up a storm, but the items on the menu are yet to be unveiled, I am afraid. We are definitely looking forward to making a step change in the perception of the Prestige Yachts brand during the upcoming season.
Erwin Bamps, Directeur Général, Prestige Motor Yachts