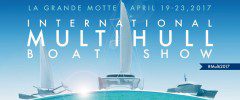 Le Salon du Multicoque 2017
19 - 23 April 2017
The International Multihull Show held in La Grande Motte is built around a simple concept: showing multihulls afloat, in a dedicated place and in an exclusive manner.
This one-of-a-kind boat show is THE event to view power and sail catamarans and trimarans.
The following models are on display from Lagoon Catamarans at this years show:
Lagoon 42
Lagoon 450 F
Lagoon 52 S
Lagoon 560 S2
For full details see HERE.
Contact Ancasta Multihulls to book your appointment to view the most popular multihulls in the world made by Lagoon. Call the team – +44 (0)2380 450 000