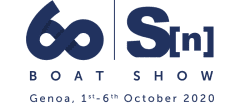 60th Edition, Genoa: 1st - 6th October 2020
"Never Stay Still"
This year's Genoa Boat Show will be the largest event on the Mediterranean, welcoming industry professionals and boating enthusiasts alike to over 200,000 square metres of display area on land and sea.
Since its first successful introduction in 2018, the Genoa Boat Show has taken on a new multi-specialised format, that of four Boat Shows in one, each entirely complementary yet at the same time characterised by their own specific identities: no divisions, no limits, just an extension of the Genoa Boat Show's key strength, that of being a cross-segment event with in-depth vertical support chains that define a tailored one-to-one relationship with each and every exhibitor and visitor.
The layout provides a TechTrade Fair dedicated to components and equipment, a sailing boat show (Sailing World), an area dedicated to outboard motorboats (Boat Discovery) and a Yacht and Superyacht Show.
All at the heart of a Boat Show which, like the sea, never stays still, always ready to welcome the world of recreational boating to its shores for six full days in Genoa.
See below for the list of sail and motor yachts on display at this years show and contact us to secure an appointment to view:
Beneteau Oceanis Yacht 54
Beneteau First Yacht 53
Beneteau Oceanis 46.1
Beneteau Oceanis 40.1
Beneteau Swift Trawler 41
---
Lagoon 50
Lagoon 46
---
Prestige X70
Prestige 520 F-line
Prestige 420 S-line
---
Sanlorenzo SL 118
Sanlorenzo SL 102A
Sanlorenzo SL 96A
Sanlorenzo SL 86
Sanlorenzo SL 78
Sanlorenzo SX 112 – World Premiere
Sanlorenzo SX 88
Sanlorenzo SX 76
Sanlorenzo SD 126
Sanlorenzo SD 96
---
Bluegame BGX 60 – World Premiere
Bluegame BG 62
Bluegame BG 42
---
Please contact us below to secure an appointment to view
---
Book your appointment to view