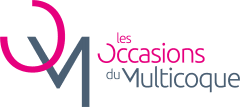 15th - 18th Oct - Live online OR in Canet, France.
ANCASTA INVITE YOU TO THE 2020 MULTIHULL SHOW IN CANET, FRANCE.
The Multihull Show in Canet en Rousillon, France from 15-18 October is on and we will be there so you can either join us  OR enjoy the show from your home or office!
2020 rolls on and the challenges of Covid remain with us, hence Ancasta continues to adapt.
One big upside we realized this year is time onboard our boats. Time onboard proved to be one of the best ways to enjoy time with family and friends. All the pleasures of sun, sea, meals, sundowners and great company in a safe, secure and blissful environment.
Looking ahead those joys will be cherished in 2021 as well.
We invite you to join us either at the event or onboard via facetime / Zoom / Skype from the 15-18 October to enjoy a private tour of the popular and comfortable Lagoon 620 and the fast and innovative McConaghy MC50.
Contact Ted Smith now on +44 (0)7887 690 184 or [email protected] to coordinate the best time for your private and convenient tour.
More details about the show can be found HERE