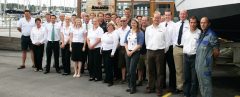 Why Use a Professional Yacht Broker?
Find out the benefits of using a professional yacht broker to help you buy a boat…
On initial enquiry, a professional yacht broker will work on your behalf , listening closely to determine if the boat you have in mind is the right one for you, and can tell you whether or not it represents good value. They will be extremely well informed about the current market conditions and have a familiarity with similar boats and their recent sale prices.  They will also be able to advise on what offers the vendor may accept.
They will be familiar with ALL of the paperwork needed to check that the boat has a clean and unencumbered title, including the trail to show payment of VAT where appropriate.
Your boat broker will be able to advise you on the very best course of action should you wish to apply for finance that may assist you with some extra leverage when negotiating prices. They will also possess a sound knowledge on marine insurance, surveys, VAT and offer recommendations for specialist marine lenders.
A yacht broker can use their position as an intermediary to keep the negotiations between yourself and the seller moving to a successful conclusion, even in the event of unforeseen problems. They will also be able to recommend local training centres should you wish to further your boating knowledge.
As mentioned above, a professional broker will use a client account for your funds, and ensure that, on completion of the purchase, any existing loan or other encumbrances are paid off. This safeguard is absolutely imperative to both yourself and the vendor.  This is where it all has the potential to go seriously wrong in private transactions which do not involve an ABYA trained professional.
Find out more about our marine finance and marine insurance partners.