Harken At The Front
Supporting the Volvo Ocean Race
As the Volvo Ocean Race pulled into Cardiff for the UK stopover, we got behind-the-scenes access with Harken, the Official Supplier of winches, blocks, pedestals, travellers, mast car systems and deck hardware for the Volvo Ocean Race 2017/18, to find out about the hard work that is involved in supporting a round-the-world yacht race and to discover why it is so important to keep deck hardware serviced regularly and running smoothly at all times…
Dedicated Fleet Support
Over eight gruelling months sailing around the world, seven bold teams battled it out to get onto the podium of the prestigious Volvo Ocean Race – an offshore event that tests the strength, stamina and mindset of the brave souls who take it on. Even on the last leg, after 45,000 nautical miles of racing, it was still all to play for with several teams in contention for the top spot. But, only one team could be crowned the Volvo Ocean Race champions and, in the end, it was Dongfeng Race Team who were victorious, with an incredibly tight win on the last leg into The Hague.
But it's not all just about the sailors. Behind these headstrong and talented crews, support teams worked busily behind the scenes to keep the event rolling between stopovers and to ensure the sailors were equipped with the very best vessels, and equipment that could withstand the harsh environments that they faced, in some of the world's most treacherous seas.
Harken equipment is renowned for being tough. It is designed to perform under the most extreme conditions, so that sailors can focus on making the boat go faster, and be confident that their kit will perform, no matter what the sea state or weather. But, as with all deck hardware, parts need regular servicing and attention in order to keep everything working to the max. During the Volvo Ocean Race, with the kit getting used around the clock, this was particularly important. So, the Harken Tech Team packed their bags and followed the race around the world to carry out vital servicing work on all Harken equipment at each stopover.
(All photos © Hannah Cotterell Media)
The Harken Tech Team
One of the most important supporting partners of the race, the Harken Tech Team made sure all of the Harken winches, gear boxes and pedestals onboard the Volvo 65 fleet were fully serviced and running smoothly throughout the race.
The team had to service a total of 56 winches, 35 gearboxes and 21 pedestals at every stopover. This was a huge task that equated to over 570 man hours at each event, and one that involved seven experienced Harken technicians, meticulous planning and precise organisation.
But with over 17 years of Volvo Ocean Race servicing experience between them, the Harken Tech Team technicians are proficient and they all worked long hard hours to get the job done, making sure the sailors could fully rely on their Harken kit in the heat of the race.
The slick and well oiled Harken servicing production line was running at full speed at every event. As soon as it was physically possible, the Harken Tech Team were on the boats ready to remove all of the winches, gearboxes and pedestals. This was a two person job and every single part that was taken off each boat had to be carefully labelled to ensure that it didn't get misplaced or end up going back on the wrong yacht. The team then had to transport all of the kit back to the workshop before embarking on the long and arduous task of taking every item apart.
Each and every part was then cleaned and inspected for damage, and any worn components replaced or repaired to ensure that the kit worked smoothly and efficiently during the next leg of the race. Once re-assembled, everything was taken back onto the boats to be refitted. As you can imagine, this was a very time consuming task and, with so many units to service, the team were often under a lot of pressure to get all of the kit turned around in time for the boats to be launched again.
The Boatyard
This military style operation also required a well equipped workshop, and that is where The Boatyard came into play. Found at every Volvo Ocean Race stopover, The Boatyard was a purpose built area that housed all of the event's tech support, from sail repairs and electronics to boat building and, of course, deck hardware servicing. The colossal 80m by 20m tent was erected at every port on the race route and provided the race teams with everything they needed to get their boats in perfect race condition after every leg.
Inside The Boatyard, an array of containers accommodated workshops, so that each of the tech teams could carry out their various tasks. Harken's container was an ultra efficient hardware-servicing tardis, fully kitted out with plenty of worktop space, storage, inbuilt parts washers, compressed air system and large stocks of spares and consumables, like pawl springs and winch grease, so that the team could get the job done quickly. This was clearly an essential part of the operation; without it, the job would have been virtually impossible.
The Importance of Deck Gear Servicing
The process of servicing all of the Harken kit after every leg of the Volvo Ocean Race is an extreme example, as the kit was being used around the clock, seven days a week and in harsh weather conditions. However, even a winch that hasn't been used for a few months can still accumulate salt and dirt, just from being exposed to the outdoors. Whether you are sailing around the world, weekend racing or popping out for the occasional cruise, regular servicing of your winches and deck gear is really important. Deck gear and winches have lots of moving parts, are subject to high loads and are exposed to the elements at all times, even when not in use.
As a general guide, Harken recommend that you have your winches serviced twice a year, but more often if you are racing and perhaps once a year for very light use. A winch service involves taking the winch apart, giving all of the individual components a thorough clean, inspecting for any damage, replacing parts as necessary and putting it all back together again. This process can really help to prolong the life of your deck gear and, if you're racing, it will help the kit to perform better and be more reliable, reducing the risk of a race being lost due to kit failure!
Quick Guide to Winch Servicing
Here is a quick step guide to servicing your winches:
Routine - Aim to service your winches twice a year on average; more if on a race boat, once a year if very light use.
Prepare - Have all of the correct tools and materials you need ready and laid out, within easy reach. At the very least you will need a set of allen keys, rags, degreaser, pawl oil, winch grease, a tub to put all of the small parts in, some new pawls and new pawl springs.
Be methodical - Dismantle the winch and lay out the parts carefully, comparing every component to the approved technical diagram to make sure nothing is missing or out of place.
Degrease and inspect - Clean each and every part thoroughly, and check for any damage or corrosion that may prevent the winch from working correctly.
Reassemble - Apply winch grease to gear teeth and the gear shaft before carefully reassembling the winch, following the technical drawing once again. Do not grease pawls and springs.
Test - Gently spin the winch by hand and then wind it both ways with a handle to make sure it is working correctly.
Servicing Support For You
If you need your deck gear serviced, but, like the Volvo Ocean Race crews, don't have the time to do it yourself, you can call in the experts. Hamble Yacht Services Refit and Repair is an official supplier of Harken and can offer comprehensive winch servicing to help keep your Harken kit running smoothly and last for longer. hysrr.com
Follow Harken
To find out more about Harken's Volvo
Ocean Race story, visit their website
harkenatthefront.com or email them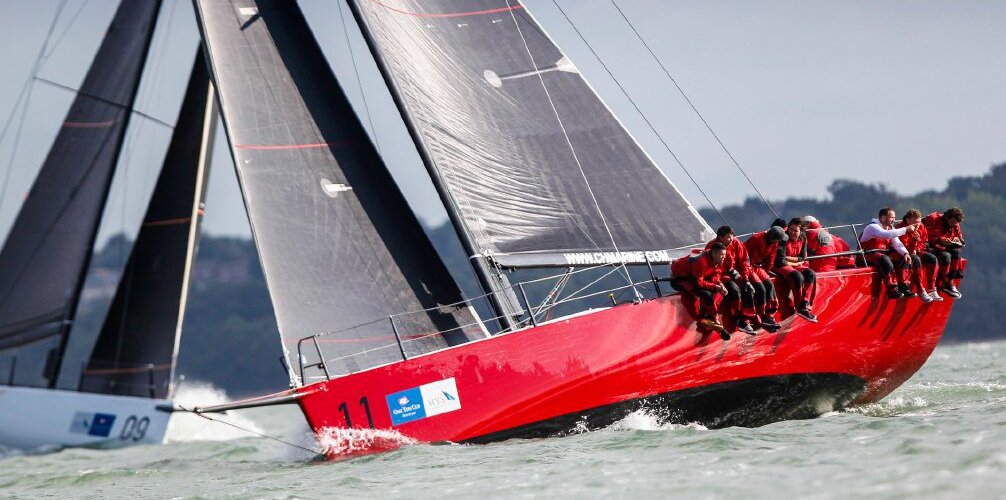 We are suppliers of Carbon fibre or PBO fibre stays, designed for large cruisers and high performance.