Factory Visit: McConaghy Boats China
A look behind the scenes of the McConaghy Multihulls Factory
Over 16 years ago, McConaghy Boats expanded its Australian-based manufacturing by setting up a full-service boatyard in China.
Today, the cutting-edge facility in Zhuhai produces some of the most technically advanced performance yachts on the market, including MC Multihulls, a range of luxurious high-performance multihulls with high levels of customisation.
Here, our Multihull Brand Manager, Hannah Le Prevost, and Jeremy Tutt, from Ancasta London, recall their recent visit to Hong Kong to see McConaghy's phenomenal manufacturing processes first-hand.
Zhuhai Boatyard
Despite an early start, our journey to China was surprisingly straightforward. After a direct flight to Hong Kong, a 40-minute hop across an impressive 55 km bridge took us to Zhuhai's colossal 20,000m2 shipyard. This remarkable place is not only home to MC Multihulls but also the birthplace of iconic racing machines, including the revolutionary AC40 foiling monohull.
Over the following days, we had the pleasure of meeting Mark Evans, Group Director of McConaghy, Jean-Benoit, General Manager, and Jamie Thompson, Technical Manager, to learn about McConaghy's fantastic facilities and highly customised yacht manufacturing processes.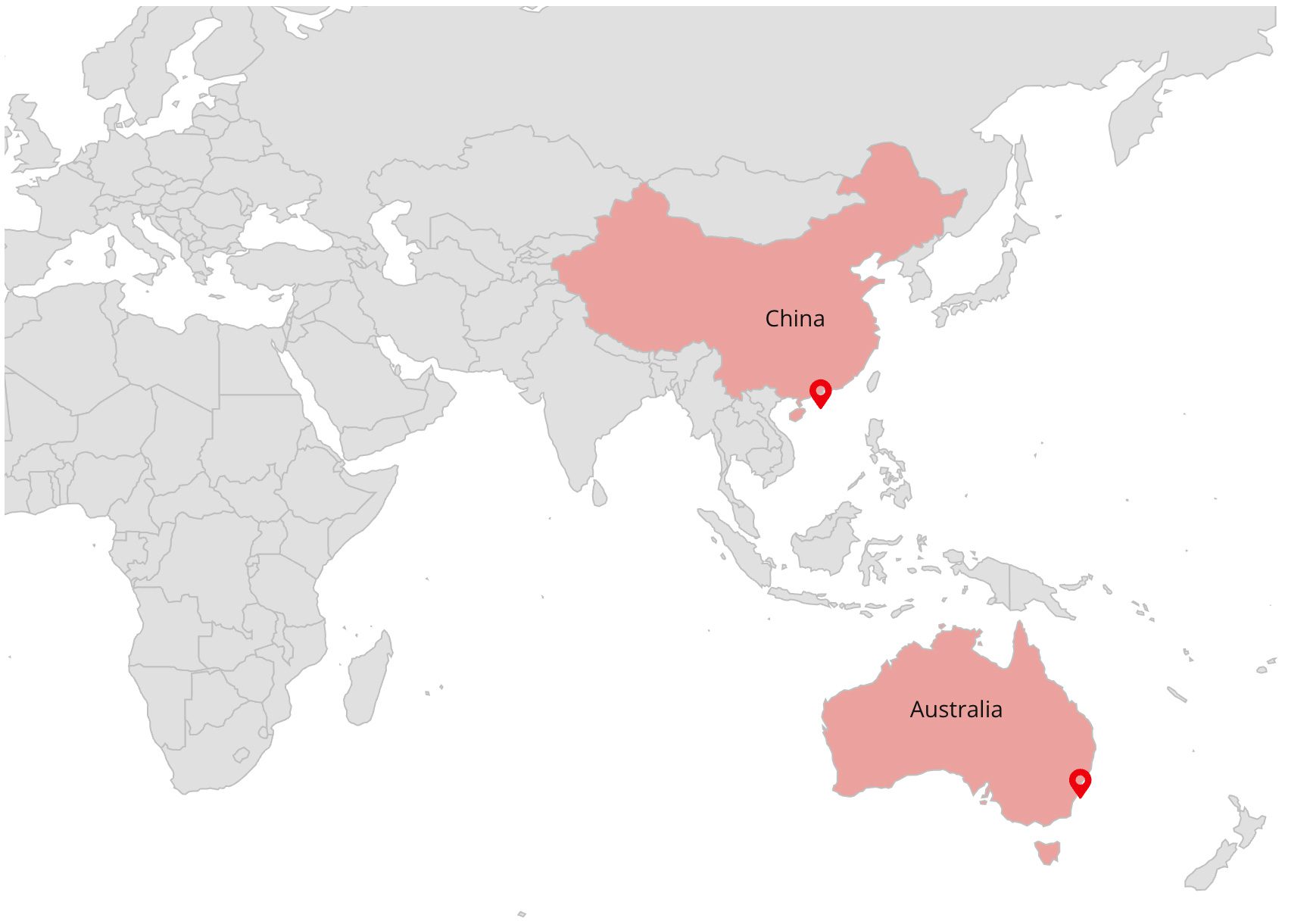 Strategic Location
One of the most obvious benefits of building yachts in China is the lower overheads. But this doesn't mean quality is compromised – quite the opposite! We quickly realised there's much more to this location than first meets the eye.
Surrounded by many of the world's leading product, tech and software manufacturers, such as BMW, Dell, HP, Intel, IBM, Samsung and Sony, the region attracts many talented engineers, technical craftspeople and creative designers.
The area is also really well connected, with excellent travel connections globally. This provides McConaghy with fantastic access to plenty of skilled labour to work onsite. And scaling-up production to meet demand is made possible.
Cutting Edge Technology
At the heart of the McConaghy Multihulls shipyard, we witnessed an unwavering commitment to investing in state-of-the-art technology. The shipyard is equipped with everything required for start-to-finish manufacturing. Cutting-edge computer-aided design (CAD) software, 3D modelling tools, and a large autoclave are just some of the tools we saw during our tour.
This superb facility enables the skilled workforce to bring McConaghy's innovative designs to life and for the scale of production to accommodate multiple projects simultaneously (there were seven MC Multihulls in build while we were there).
The yard also benefits from the expert knowledge and innovative manufacturing techniques bought in by cutting-edge yachts such as the AC40, which is built on the same site.
Customisation
With everything made at the Zhuhai boatyard, McConaghy has complete control of the entire manufacturing process, facilitating exceptional customisation options for new owners. From personalised layouts and finishes to technical modifications and custom power solutions, the options are extensive.
Mark talked us through the process, which begins with a scheduled call with himself and Crystal, Senior Project Manager, to discuss ideas. The design team then develops initial concepts and produces 3D Cad drawings for sign-off.
Once in build, we invite clients to visit the shipyard to see their yacht in production. This is a fantastic opportunity to check that everything is to their liking and starts to make their dream an actual reality!
Skilled Team
After spending a lot of time with the McConaghy team, it became evident that everyone working at Zhuhai is extremely dedicated to producing superb yachts that surpass those of their competitors.
Staff retention is high, too. Many of the boatbuilders were recruited when McConaghy first arrived in China and have stayed loyal to the ever-expanding team since. Incredibly, they've gone from 90 to 400 employees in just three years!
McConaghy's dedication to quality training has clearly paid off, and we were really impressed by the boat-building team's care and precision when working on the MC Multihulls. The quality is exceptional, and attention to detail is meticulous. Each multihull model also has a dedicated project manager, to ensure detailed product knowledge and development.
Find out more
Our visit to the McConaghy Boats factory in China offered a captivating look behind the scenes of their remarkable shipyard.
Positioned strategically in Zhuhai, the facility benefits from a talented workforce and state-of-the-art technology, enabling the production of cutting-edge multihulls.
We're very excited to work with McConaghy as they continue to shape the world of high-performance yachts with their unwavering commitment to innovation and personalisation.
To discover more about McConaghy's extraordinary yachts and explore the possibility of owning a truly unique multihull, please contact
[email protected].