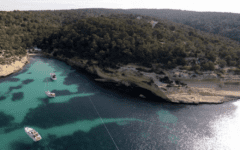 6 Reasons to Base Your Boat in Palma
Enjoy sunshine all year round and explore secluded calas in the stunning Balearics Islands.

Ever dreamt of berthing your boat somewhere that is sunny all year round, is easy to get to, has plenty of places to explore, good food and drink, secluded anchorages and excellent onshore facilities? Well Palma might just be the perfect destination – the Ancasta Palma Office Team certainly think so! Here we give you a snapshot of what's on offer in the Balearic Islands and why basing your boat here can offer some incredible cruising opportunities. Be prepared to book your flights, it makes for some pretty great reading…
1. Easy Access to the Balearics Archipelago
Palma is the capital of Mallorca, the largest island in the Spanish Balearics archipelago located in the western Mediterranean Sea close to the Iberian Peninsula. Mallorca and its close neighbouring islands of Menorca, Ibiza and Formentera, offer glistening white beaches, clear turquoise waters and stunning coastal vistas, creating an spectacular natural cruising playground.
2. Enjoy year round sailing
The Balearic Islands enjoy over 300 days of sunshine every year, on average, which means you can enjoy a comfortably mild climate all year round. The long summer sailing season runs from as early as April through to as late as October, although seas won't warm up until May. Sea breezes in the Balearics are steady and run like clockwork, gradually building during the day, making it the perfect destination for beginner sailors and experts alike. Sailing during the winter is also possible with lighter winds in December and January, but watch out for mistrals that will occasionally bring stronger winds.
3. Find your own secluded cala
The Balearic Island coastlines are bejeweled with an abundance of natural coves known locally as 'calas.' These tranquil hideaways boast clear, calm and sheltered turquoise waters creating perfect anchorages for a spot of lunch or overnight stay. With so many to choose from you can find your own little piece of heaven, away from the crowds, where you can relax and unwind in complete seclusion.
4. Vibrant onshore entertainment
Whether you enjoy a bit of easy going beach bar culture or some lively evening entertainment, the Balearics have something to offer everyone. Seek out a classy restaurant and indulge in some locally sourced and expertly prepared tapas with some local wine from the nearby vineyards, or head to Ibiza to enjoy exotic cocktails and see some of the world's best DJs play on the beach whilst the sun sets over the ocean.
5. Full service facilities ashore
The Balearic Islands are dotted with well equipped marinas with plenty of berths for vessels large and small. Most ports offer state of the art facilities so you can fuel up, provision and carry out any necessary boat work or repairs with ease.
6. Easy Travel
And if all of that wasn't enough, getting to Palma is extremely easy with plenty of scheduled flights from all of the major UK hubs including London, Southampton, Manchester, Birmingham, Bristol, Edinburgh, Glasgow, Belfast, Cardiff, Newcastle and more, all year round. Plus, Palma airport is just 10 minutes away from the main marinas, so transfers on arrival are simple too.
Find Out More
The Ancasta Palma Sales Team is on hand to help you to sell your boat, find you the yacht of your dreams and make sure you get the best out of sailing from Palma and exploring the Balearics. Our Palma based Ancasta staff speak 6 different languages between them, and their boat sales experience spans 18 different nationalities and 5 continents so they are well placed to help you with all local and international matters. Plus, located close to Palma's main marinas, Club de Mar and Club Náutico, the bright and airy office is at the heart of Palma's yachting community, making it very convenient for visitors and locals, and it is just 10 minutes from the airport and with plenty of parking available.
Call: +34 971 719678 / +34 971 721567
Email: [email protected]