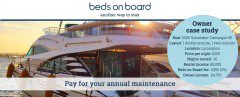 Beds on Board
Beds on Board connects boat owners and accommodation seekers, allowing owners to make money from their vacant boat to help offset the costs of ownership. The boats do not leave their mooring, it is just accommodation, just beds on board. Launched in 2015 the peer-to-peer platform now has thousands of members and boats in over 40 countries.
Why use Beds on Board?
Renting your boat with Beds on Board allows you to help offset some of the costs of ownership. Generating an income from your boat could pay for insurance, fuel, annual servicing costs or some of the mooring fees. The option to offset some of the expensive running costs of boats is proving very attractive to current owners and those thinking of buying. Some owners are now upgrading their boats as the income generated from Beds on Board is making ownership more affordable.
What do owners need?
Boats should be safe and comfortable with walk-on access and you or an appointed agent should be available to respond to guest enquiries and welcome them aboard.
You remain in control, using the platform to decide when the boat is available, to set the price and terms and deciding who stays on board. Guests can review boats, contact owners and pay using our secure technology.
Special offer – 3 months fee free
List your boat using this link to enjoy 3 months fee free (usually 5%):
 Some of our latest reviews
"Great customer, great communication, left the boat in perfect condition, couldn't ask for anything more, welcome back anytime"
"The boat was 100% cared for and left in an impeccable condition on departure"
"Paid half my berthing costs in just 6 months."
☆☆☆☆☆
"Pleasure to have aboard, all left shipshape."
☆☆☆☆☆
"Brilliant in every way!"
☆☆☆☆☆
Want to learn more?
Contact Beds on Board anytime by calling on +44 (0) 203 795 5006 or emailing questions@bedsonboard.com.